10 Best Hidden Swimming Holes Near Orlando
Posted by Brady Pevehouse on Wednesday, August 25, 2021 at 3:22 PM
By Brady Pevehouse / August 25, 2021
Comment
10 Best Hidden Swimming Holes Near Orlando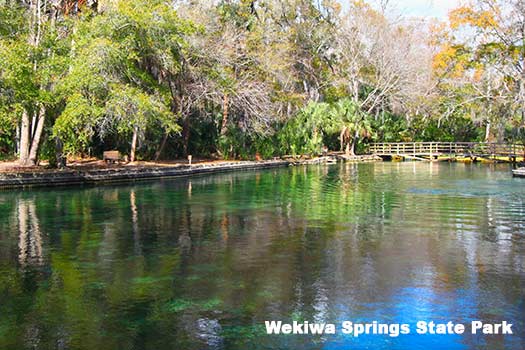 You don't have to spend a fortune to swim in Orlando.
Here are the best hidden swimming holes in the area.
People flocked to Florida well before Disney popped up as the go-to tourist destination for families. It provided a vast ecosystem, consistently warm temperatures, and untouched natural wonders.
When Walt Disney chose Orlando for the site of his dream park, he did so because of its accessibility from the rest of the state and security from hurricanes.
Today, locals and visitors alike enjoy the many splendors of Orlando's tropical atmosphere by hunting down its naturally occurring amusement parks: hidden swimming holes.
And Orlando, being centrally located,
has much to discover within a reasonable distance.
So, get your bathing suit and towel ready to enjoy these 10 secret places to take a dip in Orlando without a hefty admission price.
1. Alexander Springs Rec Park
(Directions - 56 Miles) This first-magnitude spring provides a large area for everyone to enjoy, making it one of the best springs in Florida. It is part of the Ocala National Forest that stretches across 4 counties and 383,000 acres.
The expansive spring is one of the only parks in this forest that allows scuba diving. It also offers canoe and kayak rentals, overnight camping sites, and hiking. Plus, swimming can be enjoyed year-round as the water stays a pleasant 72 degrees.
The short hiking trail provides a boardwalk over the crystal clear water to view the sandy bottom. Enjoy the shade under maples, palms, and sweet gum trees that are home to many wildlife.
Keep an eye out for alligators, turtles, black bears, deer and an array of subtropical birds in the area.
2. Blue Spring State Park
(Directions - 33 Miles) Why tackle the maintenance of a home swimming pool when you can take a dive with a manatee in the natural springs near Orlando.
This park protects these gentle giants by providing them a safe winter home during their migration. You can view over 400 manatees congregating here each year.
Don't get too distracted as other activities keep you busy like canoeing, snorkeling, and scuba diving.
To get to this majestic park you can walk alongside the spring or take the 4.5-mile hiking trail. There are also boat tours or launch pads for kayaks and canoes that take you down the spring.
3. Wekiwa Springs State Park
(Directions - 16 Miles) If you are looking for swimming holes near you, this one doesn't get much closer to central Orlando. You will be surprised how developed shopping centers turn into a natural wonder so quickly.
This park is a favorite for locals, so get there early to grab a premier sunbathing spot on the sloped hill facing the swimming hole.
They have canoe rentals that take you down a long narrow stream with alligators resting on the banks. Some spots are shallow and allow you to take a quick dip or search for turtles in the clear water.
There are no worries if the alligators frighten you. The swimming section is blocked off with a net to keep critters out.
4. Kelly Park Rock Springs
(Directions - 28 Miles) It doesn't get lazier than tubing down a clear natural spring at a steady pace. The water steady at 68 degrees cools you off on a hot summer day while making it accessible all year.
This 30-minute ride is a huge attraction that gives families hours of water fun. So, plan your trip on the weekdays and avoid holidays to avoid large crowds.
In addition to renting a tube, the park also has tent and RV camping available. Try canoeing, kayaking, and snorkeling or take a hike on one of their trails during your stay.
5. DeLeon Springs State Park
(Directions - 49 Miles) If you are looking for natural springs in Florida that include an Orlando history lesson, the DeLeon Spring is the place to go.
The Timucuan natives used these pristine waters for scared cleansing as it was called Acuera meaning "healing waters." Later, during the Civil War, the stream was used to mill sugar cane and corn.
Today, the park serves visitors as a large vestibule for swimming, boating, snorkeling, and paddle boarding. The spring extends into lakes and streams giving water-sport enthusiasts a never-ending array of options.
6. Rainbow Springs State Park
(Directions - 84 Miles) As a combination of man-made and natural features, this park offers something for everyone.
Privately-owned back in the 1970s as a tourist attraction, the park's zoo and rodeo couldn't compete with nearby Disney. After closing in 1973, there are still 3 man-made waterfalls left in the park to enjoy.
Its natural history goes back even further as a phosphate mine in the 1890s which brought jobs to the area. The pits dug for mining later served as a perfect landscape for the waterfalls.
Now the park is owned by the state of Florida and attracts nature lovers with blue waters for swimming and boating; wildlife viewing with a butterfly garden and native plant observatory, and; exploring options like camping and hiking.
7. Ginnie Springs
(Directions - 138 Miles) College students from the University of Florida flock to this private natural spring for the party and the adventure. Alcohol is allowed on the premises since its not a state park. And if you skip the drinking, take a peek at one of the underground caves.
You can rent scuba gear to dive into one of three Devil's Spring caverns. A larger basin at the main site of Ginnie Spring contains a wide basin called the ballroom because of its easy access for beginning divers.
These caverns connect to the Santa Fe River and offer breathing-taking views for all experience levels.
There are also seven headsprings that offer swimming, tubing, paddle boarding, and kayaking. All equipment can be rented out from the park.
8. Juniper Springs Rec Area
(Directions - 65 Miles) Looking for natural springs that work for small children? This main swimming area is set up like a public pool so keeping an eye on your little ones is easy.
Hundreds of natural springs scattered throughout the park encourage curiosity and discovery for eager children. And the historic mill gives them a glimpse into the park's past as one of the oldest in the Ocala National Forest from the 1930s.
It is conveniently located between Ocala and Ormond Beaches. You can make it a weekend camping trip that ends with a day at the beach on the way home.
9. Warm Mineral Springs
(Directions - 155 Miles) Take a trip south to one of the warmest, deepest, and mineral-rich hot springs in Florida. And with a 2-hour drive from Orlando, you will need the rest and relaxation while stretching out your legs in this pond.
At 85 degrees this spring is hotter than its northern cousins, which makes floating easy. An earthquake from over 20,000 years ago caused this swimming hole to sink about 250-feet, so swimming and floating skills are essential.
The 51-minerals contained in the water is the highest in the country, making it the healthiest bath you will ever take.
You can add a spa treatment to your hot bath like a facial, deep tissue massage, or reflexology therapy. These services need to be reserved in advance.
While this sounds like an adult oasis, there is a place for children to safely swim.
10. Fanning Springs
(Directions - 135 Miles) If you stretch your search of natural springs, then take a drive a little over 2 hours northwest to get to this wildlife haven located on the Suwannee River.
Above, you will be surrounded by historic oak trees that hawks, woodpeckers, and owls. Below, the in the blue water you can spot plenty of fish like fresh-water flounder, bass, and bowfin. Don't forget to look for turtle and manatees too.
When you not cooling down in the 72-degree spring, enjoy the beach volleyball court or take a walk through the cypress swamp leading to splendid views of the river.
If you build up a sweat just head back to the boardwalk to take a leap off boardwalk's pier for some more swim time. And if you want to learn how to scuba, this moderate 20-foot spring is perfect for beginners.
The park accommodates longer stays too with cabins and tent camping throughout the property.
Hidden Swimming Holes Not Just for Locals
Tourists often get caught up in the bright lights of amusement parks and discounted shopping outlets, not to mention the surrounding beaches. But, Orlando has much more to offer than the obvious tourist traps.
Next time you are in Orlando, check out the hidden swimming holes to get a taste of its natural wonder and original reasons behind this city's popularity.
And after seeing all that Orlando has to offer, you just might want to make it your next home or invest in a permanent vacation house. Browse our list of available homes for sale to always be near your favorite city.
Distances are shown from Downtown Orlando-