10 Things to Do in Orlando for Summer Family Fun
Posted by Brady Pevehouse on Tuesday, June 18, 2019 at 6:37 AM
By Brady Pevehouse / June 18, 2019
Comment
10 Things to Do in Orlando for Summer Family Fun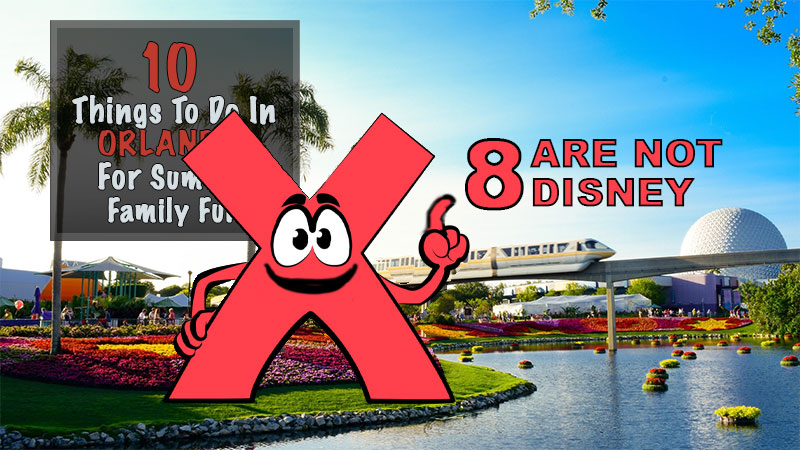 Are you looking for summer adventures you can do with your whole family? Here are the top things to do in Orlando for summer family fun.
Things to Do in Orlando for Summer Family Fun
Did you know that Orlando has overtaken New York as the most visited city in the United States?
Up to 95 million people visit Florida annually, many of whom are heading straight for Orlando. It's not hard to see why either. There are so many fun things to do with kids in Orlando.
It doesn't matter whether you live in downtown Orlando or you're staying in your summer home, it's the best place for family fun.
With so much choice, it's not always easy to choose what you want to do in Orlando this summer. That's why we've put together a list of things to do in Orlando which the whole family can enjoy.
Ready to find out more? Let's get started!
1. Walt Disney World Resort is a Must
Everyone in the world wants to go to Disney World Resort, Orlando (at least once).
Did you know that Walt Disney World is the most visited vacation resort in the world? Over 50 million people come to visit every year.
The entertainment park is absolutely packed with family fun and adventure. There's something for everyone.
You can do everything from enjoying rides such as Space Mountain and the Rock n' Roller Coaster to getting Donald Duck's and Mickey Mouse's autographs.
Even adults who think Walt Disney World is for children can expect to swiftly change their minds. Sadly, adults can't dress up as characters, but kids can!
If you want to avoid the mayhem of the weekends and holidays, then show up at Walt Disney World on a weekday during the off-season. You won't have to wait as long for rides or navigate your way through the crowds. <hint: it's even better if you are willing to risk bad weather delays... many families head home as soon as rain starts>
2. Disney Springs Offers Thingymabobs Galore
If you haven't been Disney'd out yet by visiting Disney World, you can always take the short trip across to the Disney Springs.
You may not be able to afford the price tag of admission to Disney World for all the family. But, you'll be delighted to know the Disney Springs is free to enter.
You can walk around without paying a cent. However, if you're after theme park rides, you'll be disappointed.
But, you will discover some outstanding restaurants. For example, you should check out Asian Fusion at Morimoto. Or, if the taste of Fish and Chips is for you, visit the Irish pub called Raglan Road.
There are also dozens of extraordinary shops to grab souvenirs. Are you in need of a new Mickey Mouse t-shirt? How about a Little Mermaid toothbrush? There are gadgets and gizmos a-plenty here.
Finally, don't leave before you experience some of the majestic live shows including musicals and magic shows.
3. The Kennedy Space Center Will Blast You Away
Jump in the car and within an hour from downtown Orlando, you can arrive at the Kennedy Space Center. It's worth the ride!
Here you can explore everything about NASA, including space shuttles and memorabilia. That includes Atlantis and Saturn V, which were launched in the 1980s and late-1960s respectively.
You can learn about the moon landings of the 1960s, as well as the most recent achievements of NASA here. Perhaps best of all, you can meet a living astronaut at the Astronaut Encounter events.
4. Legoland Where Everything is Awesome
Are you surprised by the fact that LEGO is the most popular toy ever made?
Generations of children have enjoyed using LEGO bricks to realize what was previously just figments of their imagination. However, there is nothing quite like visiting LEGOLAND Orlando to truly feel the magic of LEGO.
The biggest challenge you'll face at LEGOLAND is narrowing down which attractions and theme park ride you want to experience. Yes, everything is inspired by the LEGO blocks which have been an everpresent theme in every creative kid's life.
Now you have seen the Kennedy Space Center, don't miss the LEGO version. Nor should you leave without exploring the LEGO City.
You can even stay over at LEGOLAND Hotel if you want to enjoy the park over a number of days. This keeps the fun going for days.
5. The Great Magic Hall is a Different Kind of Magic
Magic tricks are not just for children. At The Great Magic Hall, you can experience real magic tricks. If you find yourself on vacation in Orlando on a rainy day, you can always head to a matinee to see a magician's performance.
But be warned, there's nothing mysterious about the Great Magic Hall. Everyone knows about the wonders which lie within these walls. So, make sure you book showtimes in advance to get the best seats before they get sold-out.
6. Capture the Perfect Picture at Icon Orlando
Known as the Coca-Cola Orlando Eye to old-time Orlando vacationers, the Icon Orlando gives you breathtaking views from 400-feet in the air.
If you want to get your bearings when you arrive on the first day of your vacation, this is an excellent chance to catch a bird's eye view of the city.
If you want to get the chance to capture the sunset for your Instagram, then you better wait in line. There are plenty of tourists thinking the same thing as you.
However, the whole experience is made enjoyable by the free parking, 40+ bars, attractions and gift shops in the area.
7. Get Up Close to an Alligator at Gatorland
Do you want to visit the "Alligator Capital of the World" in Orlando?
Gatorland is the most celebrated animal sanctuary for alligators and crocodiles you'll ever visit.
If your kids love reptiles, Gatorland is the stuff of dreams. You'll also get the chance to see exotic birds, rare snakes, and even wildcats.
Also, don't miss the performances. You can see everything from the royal rumble Gator Wrestling Show to the Up-Close Encounters Show.
Since 2011, Gatorland has also featured a zip line of over 1,200 feet in length. This allows you to travel through the park.
And yes, you'll also travel over the alligators' breeding marsh. But, don't worry, they're well fed so you're very safe.
8. Expand Your Mind at WonderWorks
The slogan for Orlando's WonderWorks is "Let Your Imagination Run Wild."
While Disney World may be famous for a magical experience, WonderWorks is an "amusement park for the mind."
It's a science museum in which you can make your way through the so-called "wonder zones" picking up bits of knowledge you never realized.
Are you an enthusiast for anything about space travel? Or, are you eager to learn about the underlying science behind natural disasters, such as earthquakes?
Whatever it is, WonderWorks has a lot to offer the curious mind. It's really interactive as well, which makes it a fantastic experience for little ones.
9. Aquatica Orlando Water Park Boasts 42 Water Slides
You'll never think about swimming the same way again after you visit Aquatica Orlando. You can enjoy high-speed slides and incredible wave pools, which make you feel at home in the water.
This is the ultimate wet and wild experience for the entire family. Parents can soak up the sun on the sandy beaches while kids take advantage of the 42 water slides.
10. Enjoy Some Culture at Orlando Museum of Art
After the fun and entertainment have been exhausted, it could be time to dip into some art and culture. The Orlando Museum of Art is the perfect place if you want to expose your children to the art world.
The museum says its mission is "inspire creativity, passion and intellectual curiosity by connecting people with art and new ideas." It certainly achieves this with flying colors.
Founded in 1924, the Orlando Museum of Art features an impressive collection of art from around the world. There actually over 2,400 objects which span the ancient Americas to contemporary art.
Things to do in Orlando Are Never Ending
It's not always easy to keep the whole family happy! You could simply choose to go somewhere to please the kids. But, that could leave Mum and Dad miserable.
Parents may be delighted by some places, only for the kids to sit around bored. However, our list shows there are things to do in Orlando and the Orlando area which everyone in the family will enjoy together.
If you want to learn more about things for parents to do in Orlando, click on our blog post on the best breweries you really should check out.