Tips on Finding the Best Homes for Sale in Viera
Posted by Brady Pevehouse on Thursday, August 26, 2021 at 7:27 AM
By Brady Pevehouse / August 26, 2021
Comment
10 Tips on Finding the Best Homes for Sale in Viera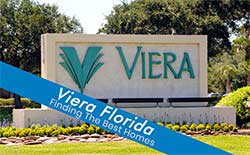 Have you considered buying a home in the community of Viera, Florida?
Nearly 33% of people who bought a home in 2019 were first-time buyers.
Buying a home for the first time is an exciting experience, yet it can also be overwhelming. If you're just beginning to think about it, you're probably wondering where to start.
One question you'll ask yourself is what location do I want to live in? Have you considered buying a home in the community of Viera, Florida?
Want to learn more about living in Viera and finding a home there?
Check out this article on tips for finding homes for sale in Viera.
homes for sale Viera Florida
Why Live in Viera?
Viera is located in Brevard County in Florida. In the 1940s, the Duda family bought the Cocoa Ranch Property. By 1966, the land became Duda Lands, Inc. and then in 1989, plans for the community of Viera were established.
Eventually, Viera grew to include amenities such as the Brevard Zoo, Viera Regional Park, and more.
Considering your future home in Viera? Here are some of the reasons to live in Viera.
Ranked Among Top 25 Master Planned Communities
The community of Viera has been ranked number five among the top-selling master-planned communities in Florida. What's more, it's ranked number 25 among the top-selling communities in the country.
The Beaches
You can't talk about Florida without talking about the beaches. If you live in Viera, you'll have access to the 72 miles of ocean beaches on Florida's Space Coast.
Whether you enjoy swimming, surfing, or just taking a walk along the sandy coastlines, you won't be too far from the beach.
Nearby Amenities
Living in Viera also includes nearby amenities. For those who love to be outdoors, there is the Viera Regional Park which is an 11-acre park. There is also the Helen and Allan Cruickshank Sanctuary where you can walk on a nature trail.
What's more, you can also make family memories at the Brevard Zoo.
Do you love shopping? There is the Avenue Viera that opened in 2004. It's a premiere, open-air shopping experience that includes boutiques, places to dine, a movie theater, and national retailers.
Highly Rated Public Schools
Another reason to start looking for houses in Viera. Brevard Public Schools in Brevard County have been given an "A" district rating. They have an 86% graduation rate which is the second-highest in the state of Florida.
Tips for Finding Homes in Viera
Ready to make Viera your new home?
Here are tips for finding homes for sale in Viera.
1. Decide on Your Price Range
First, before you jump into the process of finding homes online, you need to take a look at your finances and see what your budget can afford. If you're looking at the fanciest houses in Viera, you're going to be disappointed when you realize you're looking at homes out of your price range.
Take a look at your finances, debt, savings, and figure out the price range you're looking at for homes.
Wondering what your budget should be? There are several factors that will determine your price range for a home such as your income, current debt, and other expenses.
Once you decide on a budget, you can look for home listings in Viera within your price range.
2. Get a Pre-Approval for a Loan
Another tip for buying a home is to get a pre-approval for a loan from a lender.
A mortgage pre-approval can help your chances when it comes time to buy a house. It shows sellers that you're serious about buying and that you did some of the leg work already.
3. Consider All Costs
When looking at homes for sale, there are several different costs to consider. First, there's the down payment that you'll need to pay upfront.
How much you will pay for your down payment will depend on several factors including your financial situation and the cost of the home itself.
The higher your down payment, the less your monthly mortgage payment will be.
Also, there is the down payment, and there are closing costs. These are various fees that come with selling a home. They can include costs such as title insurance, appraisal fees, and loan origination fees.
Closing costs can add up to 2-5% of the amount of the loan which can be a hefty sum that you need to account for.
More costs to consider are homeowners insurance, property taxes, and homeowners association (HOA) fees.
Don't Forget Moving Costs
There are also moving costs when you move to your new home in Viera. You will have to pay for a moving company to move your stuff if you decide to hire a moving company.
There is also the cost of packing and getting the right materials to properly pack your things. If you are moving the stuff yourself, you'll have to rent a moving van.
There are also expenses such as having to buy new appliances if you need them. You might finally be ready to buy new furniture for your new home, so you'll have to budget for that as well.
If you were renting your previous home, and you have a security deposit, you might not get all of it back. You'll have to account for expenses such as these so that you can budget accordingly.
4. Write Down What You Want in a Home
Now it's time to think about what you're looking for in a home.
First, you should decide what type of home are you looking for. Do you want a house, a condo, or a townhouse? How about the minimum number of bedrooms or bathrooms?
You can write down what you want in your home. Write down what you have to have, such as a minimum amount of bedrooms.
You can also write down what you'd like to have--maybe a loft upstairs. By knowing what you're looking for, you can narrow your search and focus on homes that you actually want.
5. Consider a Real Estate Agent
Another tip is to work with a real estate agent when buying a home. Buying a house is probably the biggest financial decision you will make in your life, so you're going to want a knowledgeable professional to help you.
A real estate agent is a professional who can help you navigate all the complexities that come with buying a home.
6. Don't Overschedule Yourself With Home Viewings
When in the beginning stages of house shopping, you might get too carried away with scheduling home viewings. You might want to go to a showing for every house you see listed in Viera.
However, this can get tiring quickly and take up a lot of your time. Also, unless you're taking extensive notes, you're not going to remember all the details about every home you see.
7. Check out the Location
An important consideration when buying a home is the location. When looking at homes, you'll also want to consider other factors such as the commute time to your job or family members that live nearby.
If you're looking to live in Viera, which part of the town are you interested in living in? There is Viera East and Viera West. What's more, which amenities do you want to be nearby?
Do you want to live near Viera Regional Park so that you can go for a stroll in the mornings?
Or maybe you're a sports fan that would love to be near the Space Coast Stadium Complex?
You can check out Viera and see what part you envision yourself living in.
8. Think About Future Plans
Another consideration when buying a home is your future plans. If you're planning on having more children and growing your family, would a two-bedroom home be realistic in the long run?
9. Hire a Home Inspector
Before you buy a house, you'll want to hire a home inspector to evaluate the house and report any issues with the home. A home inspector will take a thorough look at different parts of the home including plumbing, the attic, the basement, the heating and cooling systems, and the electrical components.
They'll look for problems such as:
Structural issues
Plumbing issues
Electrical issues
Roof condition and remaining life
Current or prior termite issues
Then, they'll give you a full report of the home. You can use this report to assess whether or not it's worth buying the home. You can also use the results of the report to negotiate with the seller to lower the cost of the home or to fix any major issues.
Final Thoughts on Finding Homes for Sale in Viera
Whether you're a first-time buyer, or you already own a home, you know that the process of finding homes for sale can be stressful. However, the above tips can get you started on finding your future home.
Can you see yourself living in Viera? Want to learn more about finding homes for sale in Viera? Contact us to learn more.
View Brevard County Commercial Properties For Sale: