5 Reasons Why People Are Leaving New York and Other Northeastern States and Moving to Florida
Posted by Brady Pevehouse on Tuesday, November 10, 2020 at 6:38 AM
By Brady Pevehouse / November 10, 2020
Comment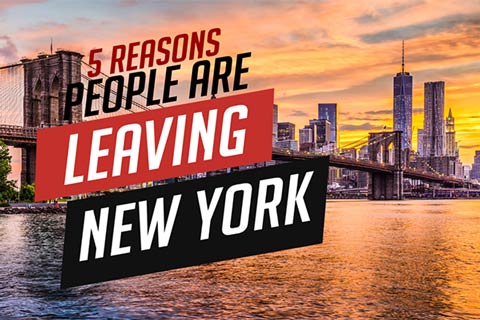 Did you know that 4 of the top 10 states people are leaving, are in the Northeast and many are moving to Florida?
With so many people fleeing New York, New Jersey, Massachusetts, and Connecticut, you have to wonder what conditions could be creating this pattern.
Would it surprise you that many are moving or considering moving to Florida?
Do you want to learn why people are leaving New York and other Northeastern states?
5 Reasons Why People Are Leaving New York And
Moving To Florida
1. To Buy an Affordable Home
Where are people moving to instead of the Northeast? Florida is one of the top states that attracts over 900 new residents of all ages and backgrounds every day. Whether people are ready to retire, start a family, or set down their roots, Florida has an impressive real estate market compared to the Northeast.
Aside from California, Hawaii, and Alaska, the Northeast is known to have one of the steepest real estate markets. If you want to build a solid savings, you should consider searching elsewhere.
2. High Cost of Living
Even if you could afford to buy a home in the Northeast, you'd probably have a hard time keeping up with other living expenses. Taxes, food, utilities, and healthcare make it difficult for people to thrive financially.
For example, leaving New York City and moving to Florida could save you over $1,200 each month on living expenses. Once you factor in the cost of rent or a mortgage, these savings could skyrocket even further. Although New York City is the most expensive city in the Northeast, the entire region still has a higher cost of living than other states.
3. Inclement Weather Conditions
SPOILER ALERT! The Northeast is home to some of the harshest winters in the country...
Captain Obvious! "Florida is known for winters envied by EVERYONE!"
Even if you don't mind winter, the frequent snowstorms are powerful enough to knock out your power for days or even weeks in severe cases. Driving is also dangerous due to slippery roads and poor visibility.
4. To Improve Physical and Mental Health
Since the winters are long in the Northeast, a lot of people's physical and mental health suffers. Long winters encourage people to move less and eat more. Without enough sunshine, people are also more at risk for developing seasonal affective disorder, which is a form of depression brought on by changes in weather.
Moving to a state which has a milder climate with plenty of outdoor activities can work wonders for your health.
5. Better Job Opportunities
The high cost of living doesn't only apply to homeowners. Plenty of business owners and companies are relocating to more affordable states to cut expenses. Improved weather conditions can also boost productivity and generate more revenue.
If you want to follow the best job opportunities in the country, you might set your sights on other regions besides the Northeast.
** Due to the COVID Pandemic and the increase in working from home / remote work opportunities, some employees are recognizing Florida as a preferred destination.
Are You Considering Leaving New York or Another Northeastern State and Moving to Florida?
Now that you know the top reasons why people are leaving New York and other Northeastern states, you can take some time to consider if you're happy with your living arrangements. If you think you can build a better life somewhere else, then it's never too late to start researching different states.
Have you ever wanted to move to the Sunshine State?
If so, our team would love to help you navigate the Orlando area real estate market. Contact us to get in touch with a Florida Realtor who can find the best deal for your new dream home.
Orlando Waterfront Homes For Sale