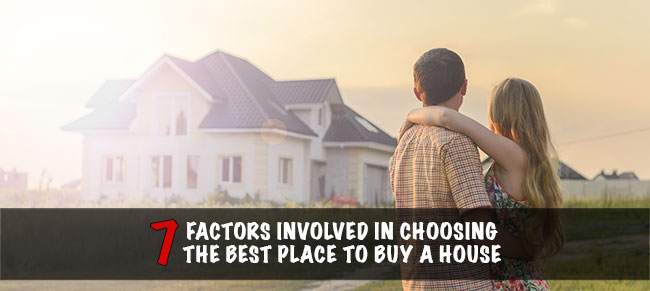 Where is the best place to buy a house - and why?
Location really matters!
This article looks at crime rates, schools, job opportunities, and more.
Are you looking for the best place to buy a home?
If so, we're glad you bumped into this article. We've compiled everything you need to know before buying a house.
Approximately 5.51 million homes were sold in 2017. This means that on average, realtors sold more than 15,300 homes every day that year.
Amazing, right?
But did the home buyers consider the old real estate adage, "Location, location, location," when buying these homes?
Unfortunately, most of them are compromising on location for another factor: Cost. What they don't know is that the location of a home dictates a lot of things, including home value, quality of life, commuting time, school choices, and social interactions.
If you're thinking of buying a house, here are seven factors involved in choosing the best place to buy a house.
1. Safety and Security
If your house is located in a neighborhood with high crime rates, you'll be forced to spend a lot of money on alarms, security cameras, and other security systems.
It may also be hard to sell the house and get a reasonable price for it in the future, when you are ready to sell.
You should, therefore, choose a house that is located in the safest neighborhood you can afford.
You could also consider the unsafe neighborhood if there are signs that the rate of crime in the area will go down in a few years and you believe you can handle the risk.
There are free crime-tracking tools such as FamilyWatchdog, CrimeReports, and NeighborhoodScout that you can use find out about the rate of violent crime in the neighborhood in question.
2. The Availability of Schools
Do you have children or are planning to start a family soon?
If so, you need to find out the schools that serve the location you want to settle in. Do they offer the quality of education you want for your kids?
You should also choose a neighborhood with people who want to send their children to excellent schools.
Even if you don't have kids, it's advisable to buy a house in a town with top-notch public or private schools. Trust us; you'll have an easy time selling it than you would if it were located in a town without good schools.
If you don't know about the local schools and home prices, you can talk to your realtor. The leading realtors will help you gather statistics and information you need to make an informed decision.
There are also free online tools and websites that you can use to learn about schools in the region you want to buy a house.
3. The Daily Commute
You should note that the length of your daily commute can determine your quality of life, income, and how much time you spend at home with your loved one.
For this reason, you should buy a home near public transit (buses, subways, and commuter rails) and major highways. This will facilitate easy movement to and from work and allow you more quality time for your family.
4. Access to Shopping Centers and Local Businesses
Homes located near the local businesses appreciate more quickly over time than the suburban homes. In 2017, for instance, the average value of urban houses grew by 8.8 % compared to 6% for suburban home values.
When you embark on your home search, you should give priorities to the homes located in urban centers or an area where one can easily access shopping malls and local businesses. This will improve the value of your home and make it easy for you to resell it.
5. Your Lifestyle May Determine the Best Place to Buy a House
Do you want to live in a quiet and family-friendly suburb? Or are you looking for the historic urban neighborhood?
The quality of life you want for your family will depend on the location of your house.
When looking for a family house, make sure you drive through the neighborhood you're interested in, mingle with the locals, and visit their shopping and recreational centers. You'll get a better sense of what living in the locality might be like.
This way, you'll be in a position to identify the location that suits your lifestyle and personality.
Remember that people have different tastes and preferences, so when it comes to evaluating the lifestyle of an area, don't rely on online reviews to make your decision. Visit the neighborhood and see it all for yourself.
6. Employment Opportunities
If moving to a new house means you'll lose your current job, you should buy a home where there are plenty of relevant job opportunities.
Are you a banker?
You'll have to buy a house near a city because that's where you'll find more employment opportunities within your industry.
Are you a teacher?
Well, you can live anywhere you like because education is sought after in almost all cities.
But don't just look at the employment opportunities; evaluate income levels too. Note that the income levels for most jobs vary significantly from state to state. It's advisable to find a job before you relocate.
7. Noise Pollution
When it comes to your home's resale value, noise pollution can be a disappointment. More than 50% of home buyers say they cannot buy homes in areas where there's too much noise.
Even if you love being in the middle of the action, make sure your house is located in a quiet neighborhood, or at least on an interior street.
This will improve your home's resale value, attract a large pool of potential home buyers, and protect you and your family from the effects of noise pollution.
Final Thoughts
No matter how beautiful, unique, and affordable a home is, never sacrifice the other location-related factors.
You can change the look of a house but can never move it to another location. If you can't find a home that is located in a desirable area, you should keep searching.
Also, pay attention to the factors we've discussed above. They'll help you find the best place to buy a house.
If you have any questions or want to buy or sell your home, you can request a free market report right away.