An Introduction to the Community of Lake Nona, Florida
Posted by Brady Pevehouse on Thursday, July 4, 2019 at 6:39 AM
By Brady Pevehouse / July 4, 2019
Comment
The Orlando metro area boasts several friendly neighborhoods like the community of Lake Nona, located in South East Orlando.
Read on to get to know this interesting fast growing area.
---
The Community of Lake Nona - Orlando, Florida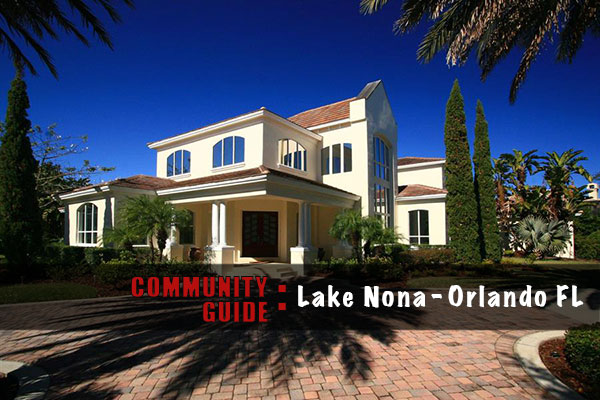 Lake Nona, Florida is one of the top neighborhoods in Orlando to buy a house, raise a family, and enjoy a high quality of life. There are a handful of important values you'll find here: safety, community, and growth.
You can enjoy the year-round sunshine all over Florida. But, Lake Nona has much more than gorgeous weather to offer.
Some haven't heard of this quaint Orlando community. Lake Nona is growing in popularity and population and landing on the radars of families looking for a new home. Businesses both big and small looking for a new location are always moving to the area.
If you're planning a move to or within Orlando, you must visit Lake Nona. This stunning community checks all the boxes; keep reading to find out more.
View Homes For Sale In Lake Nona
An Introduction to the Community of Lake Nona, Florida
The Basics
Lake Nona lays in the Southeast section of Orlando, south of the lake. It has a total population of 13,000. There's a nearly equal number of men and women.
This mainly white-collar neighborhood has a statistical median age of 35. You'll notice a ton of young and growing families. Almost the entire population lives well-above the poverty line.
Most residents in this community own a car, but the next most popular form of transportation is walking. There are plenty of restaurants, stores, and services nearby, although different parts of Lake Nona vary with walk-ability! If ditching the car is a priority for your weekend getaways, Laureate Park might be a great place to start!
The Perfect Location
Lake Nona is in a prime location for commuters and day trippers. It's a 30-minute drive from Orlando's core. Residents have easy access to downtown but can enjoy the tranquility of living outside of it.
The main highways running near Lake Nona are the 417, the 528, and the 527A. The Orlando Airport is only a 10-minute drive away. When you come back from traveling or family vacation, you won't have to drive much further to get home.
The best east coast beaches are as close as a 45-minute to 60-minute commute from Lake Nona. This includes Cocoa Beach and Daytona Beach.
As the name of the community suggests, the initial build out was nestled right against Lake Nona. In the past few years, as the Lake Nona community has grown, the area now includes; East Lake Park, Lake Hart, Red Lake, Buck Lake, Lake Whipppprwill, as well as Lake Mary Jane. In reality, the area has grown so much and so fast, that some might consider the communities on the East side of Fells Cove to be part of the Lake Nona Community despite crossing the county line into Osceola County.
Nearby business districts that residents commonly commute to are Downtown Orlando (30 minutes), University of Central Florida (main campus 20 minutes), Disney World (25 minutes), Doctor Phillips / I-Drive (20 minutes) and even as far East as Titusville. Port Canaveral (40 minutes)
The History of Lake Nona
Lake Nona is a planned community bursting with potential and prosperity. Up until about 25 years ago, Lake Nona was mainly farmland and fields. When they built the 417 highway, developers started to plan the future of this area.
The first sign of massive growth was the construction of Lake Nona Golf and Country Club. This gorgeous estate attracted golfers from all over the state and country and features beautiful Lake Nona Country Club homes and properties within a gated community anchored around the golf course.
Housing developments started popping up around the neighborhood which lead to East Park, Moss Park, La Vina, Waters Edge, Laureate Park, Village Walk at Lake Nona, and Eagle Creek which also happens to be another golf community. More and more residents wanted to make it their home, and since 2010 there has been little that could stand in the way.
Today, Lake Nona is known for its golf course and its hub of medical services, along with the University of Florida's Health Sciences Campus.
Raising a Family in Lake Nona
Lake Nona is one of the most scenic places to raise a family in Florida. It's safe, has great schools, and plenty of social amenities.
Many of the things that make it great for families also make it great for retirees. Whether you're a college student, an empty-nester, or young parent, Lake Nona has lots to offer you.
Low Crime Rates
The higher the population of a city is, the more crime it'll have. Since Lake Nona isn't in the city center, there are fewer people. The crime rates are low across all types of crime.
Additionally, Lake Nona is an affluent community. The average household income is almost six-figures. Residents here care especially about security and feeling safe.
Top Educational Institutes
You have plenty of options for primary education in Lake Nona. There are over a dozen public schools including charter, magnet, and traditional schools.
Lake Nona provides public elementary and high schools with AP programs. They also offer the IB Program as well as gifted/talented programs.
The number of educational options doesn't stop after high school graduation. Lake Nona also houses the University of Florida's Pharmacy campus and UCF's College of Medicine. Valencia College also has a campus in Lake Nona.
Community Involvement
Lake Nona's planners focused on creating ample space for socialization and community. There are parks on every corner and a community swimming pool in almost every neighborhood.
There are more than 44 miles of trails for walking, hiking and riding!
The YMCA of Lake Nona facilitates many different sports teams for kids and youth. It also holds community events like the annual Family Easter Egg Hunts. Enroll your kids in swimming lessons and mingle with other residents.
You'll notice public art installations on the streets of Lake Nona. There's a strong creative presence in this community that encourages involvement. Art, culture, health, and wellness are some of the main tenets of Lake Nona.
Employment in Lake Nona
Lake Nona is a "gigabit community". It's called this because of its impressively fast high-speed internet. Businesses here can take their missions and profits to a whole new level.
The population has grown by 50 percent in the last three years. And, so have the employment opportunities.
The main business sectors in Lake Nona are medical, technology, and retail. Independent businesses open as often as private and corporate. As the residential population grows, these retailers have more customers to support them.
Immense growth can only mean good things for those seeking employment.
Lake Nona Fun and Entertainment
For many decades, Lake Nona was not the place you went to have fun. It was known for cows, pastures, and lonely new developments.
Today, it's the opposite.
Lake Nona has a growing and thriving entertainment scene for all ages. As mentioned above, there's no shortage of public parks in Lake Nona. On weekends, you'll find people have picnics, walking their dogs, and playing sports.
Those who enjoy retail therapy will appreciate the variety of shopping centers nearby. With a mega-mall at the Town Center, Lake Nona is a working to become shopper's paradise.
There are tons of dining options for residents. Two of the hottest spots are Chroma Modern Bar + Kitchen and Canvas Restaurant & Market. Sample global cuisines, gourmet dishes, and simple American classics in Lake Nona.
New to Lake Nona
Disney World isn't the only adventure park in Orlando anymore.
Recently built in Lake Nona is Nona Adventure Park. Here you'll find water sports, water slides, and tons of outdoor adventures. Try your hand at the high ropes course or the water obstacle course.
Another new member of the Lake Nona community is Boxi Park. Visitors flock to Boxi Park for restaurants and bars housed in storage containers. There's also a main stage, a dog park, volleyball courts, and more.
Buying a Home in Lake Nona
Interested in buying property in Lake Nona, Florida? You get the pick of the crop in this expanding neighborhood.
The bulk of the houses in Lake Nona were built in 2000 or later, but there are numerous new developments starting construction each year.
For many homeowners, a new build is the way to go. You get to choose the layout you like, customize the features, and live in a brand-new home.
But, it's important to use a realtor when buying a new house. Even if you plan on buying a new build, a realtor's help is invaluable.
How a Realtor Can Help You Get Your Dream Home
In an area just outside of the city, Lake Nona's list of properties for sale is constantly growing and changing. It's hard to keep track of the newest listings all by yourself.
With a realtor, they represent you in the house search. They understand your wants and needs for a home. It's their job to know about all the current listings and which ones you need to see.
Plus, they can spot potential problems and issues before you can. Many realtors have seen people make the mistake of buying a house without help. They end up with faulty homes and unfair contracts.
Get an experienced and expert realtor on your side. The professionals at Remax will find you your dream home and to protecting your wallet.
Ready to Visit Lake Nona, Florida?
If you're looking to relocate or start fresh in a new neighborhood, we highly suggest that you consider Lake Nona. This vibrant, upscale community is growing in popularity and value.
Besides stunning homes for sale, you get access to the best parts of Orlando.
Commute to nearby towns and spend your weekends getting involved with Lake Nona's community. With excellent schools, plenty of jobs, and tons of fun and entertainment, what more could you ask for?
When you're ready to see some fantastic properties in person, contact our office. Our team members at Remax Downtown will ensure you find your dream home in Lake Nona.
Brady Pevehouse a.k.a. Brady at REMAX
Orlando Real Estate and Central Florida Homes For Sale