Buying vs Building a House: Which Is Better? Here's Your Answer
Posted by Brady Pevehouse on Friday, September 7, 2018 at 8:06 AM
By Brady Pevehouse / September 7, 2018
Comment
Buying vs Building a House: Which Is Better?
Here's Your Answer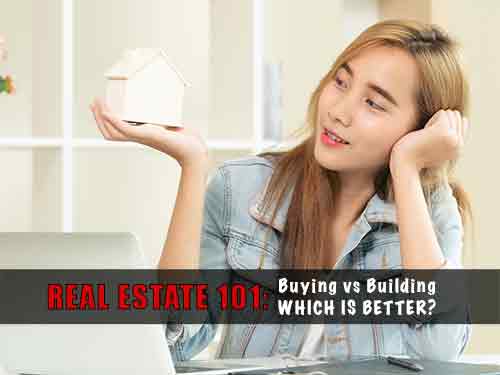 When looking for a new home, a common theme arises. Buying vs building a house: which is better for your happiness and your wallet? This article checks it out.
Buying vs Building a House
Which Is Better?
A whopping 5.34 million. That's how many home sales took place from May 2017 to May 2018 in the U.S.
The real estate sector also saw 612,000 new residential construction sales in 2017. In December that year, new home sales prices averaged $402,900.
All these tell us that home ownership is still of utmost importance to many of the nation's residents. The fact that there are 77.2 million owned and occupied houses (as of 2017) further proves this.
But these numbers also raise concerns about buying vs building a house. Indeed, buying an already-constructed house is a lot more common. But that doesn't mean you have to go with the flow.
There are many factors to consider, the most important of which we'll discuss in this guide. So, make sure you keep reading to have a clearer picture of which one suits you best!
The Costs
First, let's consider the cost of building a house vs buying. The most recent data shows us that the national average cost of building a house is $288,941. Then, we have the $272,300 median price of existing single-family homes as of June 2018.
That's a $16,641 difference, which for many individuals, is already considerable. Especially for typical employees, who have a median earning of $876 every week.
Keep in mind that the above-mentioned digits are the countrywide averages/medians. How much you'll end up paying still comes down to where exactly you want to buy or build a house on.
For instance, if you were to build a new home in Florida, expect an average cost of $313,833. The median price of existing single-family houses in the state, on the other hand, was only $253,895 in April 2018.
Now, that's a massive difference, don't you think?
But of course, if you have the financial means to carry the extra burden of building a house, then by all means, go ahead. If your budget is a little tighter though, then buying an existing one may be a much better choice.
The Location
In the world of real estate, there are three things that matter the most: Location, location, location.
Whether you're going to buy or build, you need to consider whether the area will satisfy your needs (think safety, like crime rate) and preferences (close to gyms, amenities, etc.).
Say you found a piece of land with a perfect size. It'll accommodate your dream house, with a garden, a gazebo, and a porch. Plus, it comes with a money-saving price.
The question is, how does it fare in terms of crime rate? If it's in a shady neighborhood, then you may only end up losing your savings to criminals.
The good news is, Orlando boasts of properties sure to come as close (even go beyond) your needs and wants. For the urban-lovers out there, Downtown Orlando offers beautiful living spaces. For those who prefer a more suburban lifestyle, Avalon Park and Lake Nona are only two of your many other great options.
Whatever the case is, always conduct a thorough neighborhood check. It's one of the most important things first-time homebuyers should do. Don't let yourself fall in love with a house (or a piece of land) unless you've researched the area.
The Features of the House
The usual bigger cost to build a house vs buying does come with a pleasant advantage: You get to choose whichever feature you want!
You can have the builders create an outdoor living space and install huge picture windows that look out into this area. You can choose whatever flooring material you want, be it hardwood or tiles. Whatever you desire (and don't), you can incorporate in your soon-to-be-built home, so long as your budget allows for it.
But this doesn't mean you won't find existing homes that already have (or at least almost) everything you want!
That's right. It's still possible that the previous owner had the same needs and preferences as you do now. It may have the massive kitchen you so want, as well as the right number (and size) of rooms, toilets, and baths. It may even have the right wall paint color, design elements, and architectural features you were thinking of getting!
What we're saying is, it may take more time for you to find a house that fits the bill. The important thing is, you should brace yourself to compromise. If you find a house that has almost everything and matches your budget, buying it may be the best route to take.
The Maintenance Costs
There's also quite the difference in maintaining a new home vs old home.
New homes consist of spanking brand-new construction materials, appliances, and furnishings. A warranty covers almost if not all of these. That means you have almost nothing to worry about in terms of maintenance expenses.
Once a warranty expires, you can always purchase a
home warranty
to help reduce the cost of repairs due to normal wear and tear on appliances and systems.
Some builders may even provide a coverage of up to 10 years for certain components on new houses!
Existing homes, on the other hand, already have wear and tear. This means some components, such as the roof, the plumbing, and the HVAC may need repairs sooner. Their repairs and replacements can set you back a few hundred to thousands of dollars, so make sure you factor that in your decision too.
But if the previous owner of the house took real good care of the property, then problems may not arise for many years. That's why home inspections play a vital role in your home shopping activities. It's through complete and thorough inspections you can make certain the house is as beautiful inside as it is outside.
Buying vs Building a House: The Real Winner
In this guide to buying vs building a house, you've seen the pros and cons of both. Again, if you have the means to have a new house constructed, and you want all the features you've dreamed of, then building may be the better option. But if you have a tighter budget and you're ready to compromise, buying is the way to go.
Need more home buying tips? Then please feel free to browse our blog post collection! We also have advice for home sellers out there.
Which Is Better?
Only You Can Decide!