Feeling Hungry? Check Out The Best Restaurants in Downtown Orlando!`
Posted by Brady Pevehouse on Monday, May 13, 2019 at 6:36 AM
By Brady Pevehouse / May 13, 2019
Comment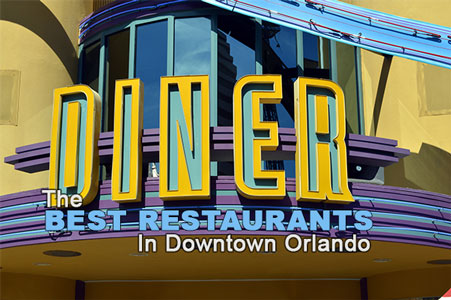 When you're in Orlando, you're going to have a lot of restaurants, hole-in-the-walls, and cafes to dine at.
Here's a list of some of what we think are the best restaurants in Downtown Orlando. Is your favorite spot on our list?
When you think of Orlando, is the first thing that comes to mind Disney World?
You're not alone.
But when you spend some actual time in Orlando, you'll see that it has so much more to offer. Especially when you head downtown to get some eats.
So we'll take a journey away from the Magic Kingdom to look at some of the best restaurants in downtown Orlando.
Grab Some Great Grub in Downtown Orlando
Because it's such a destination spot, downtown Orlando's culinary scene is top-notch.
You'll find that many of the best restaurants in downtown Orlando are located on Church Street - which is the heart of the city. In fact, part of Church Street is closed to traffic on major holidays, which makes for a pretty festive street party.
But with all of these great restaurants, there's a celebratory feel year round. So it's time to answer the question:
What Are the Best Restaurants in Downtown Orlando?
With so many choices, you're sure to find something that will please your palate.
Kres Chophouse
Ask any of the locals about KRES and even if they've never been there, they've likely heard of it.
Located in the historic 1930s Kress building on Church Street, this chophouse serves only in-house aged Prime Beef that's hand cut to order.
Steaks start at around $35, with their specialties being the beef Wellington and the Porterhouse steak. Sizes are impressive too so even the biggest carnivores will find it a challenge to get through a full three-course meal.
If beef is not your thing, you'll also find fresh and local Floridian fish on the menu, as well as an amazing lobster bisque and an interesting Brussel sprouts side dish tossed in butter.
Hamburger Mary's
If you like your beef in a less traditional - far less, in fact - venue, then this is your place.
Hamburger Mary's serves amazing, all-natural, half-pound burgers that you can customize in a variety of ways. There are also turkey, chicken, and vegetarian black bean burgers. Most burgers cost around $12.
And while the burgers are fantastic, what makes this place truly unforgettable is the live entertainment. This will vary from drag queen cabaret shows in the evenings, to drag queen Bingo and Broadway musical Sunday brunch.
Soco Restaurant
The executive chef/partner at Soco takes a progressive culinary approach to Southern food, while the space, as well as the staff, provide the warmth of genuine southern hospitality.
Be prepared to sink your teeth into dishes like cornmeal crisped oysters, shrimp and grits ravioli, crab-stuffed deviled duck eggs and pecan-crusted Carolina fluke. Soco puts a flavorful twist on traditional Southern cuisine.
Located in Thornton Park and won a 2018 Golden Spoon Award
Adriatico Trattoria Italiana
Do you have a taste for authentic Italian cuisine? Then you'll want to head to College Park to enjoy the culinary masterpieces at Adriatico Trattoria Italiana.
This restaurant is the first and only Central Florida Italian restaurant to be awarded the distinctive Ospitalita Italiana (Seal of Quality) by the Italy-America Chamber of Commerce - which certifies authentic Italian Restaurants around the world.
It's no surprise though. The owner-chef was born in Ortona, Italy, and loves to share his culinary experience with the diners in this quaint dining establishment.
This is one of my wifes & kids favorites! Check out Adriatico online!
The Rusty Spoon
If you enjoy the comfort of the gastropub and like supporting local agriculture, then check out The Rusty Spoon - also in the Historic Church Street District.
At the Rusty Spoon, they believe in building strong relationships with the locals who raise and grow or catch the food they cook. This collective commitment shows up in the care and passion they put into their dishes and cooking.
And since everything is locally sourced, their menu is seasonal. So each time you go, you'll find something new to try.
Kabooki Sushi
While Kabooki Sushi has sushi right in its name, it's also known for its cutting-edge fusion cuisine in Central Florida. And the chef changes the menu daily to use only the best seasonal ingredients.
The open space concept and booth-lined walls of this small establishment located on Colonial Drive make it feel larger.
There are also a few coveted seats where diners can see the culinary team in action - spinning out everything from standard sushi rolls to thick cut kurobuta pork belly on lightly seasoned Tamaki sushi rice with tendrils of micro basil and sprinkled with sweet-crunchy tempura shallot.
Tijuana Flats
Tijuana Flats is a Tex Mex establishment that started in Orlando in the 1990s, by a few fellow UCF Graduates. That first location became so successful that the owner created his own line of hot sauces. From there, the Tijuana Flats brand exploded.
There are now 100 Tijuana Flats across six other states in the United States. And even though this is considered a chain, Orlando is the home to the restaurant that started it all.
And Orlando's downtown location on Orange Avenue offers an extensive menu of Tex Mex options, and is one of the most lively nighttime spots in the city,
Boheme Orlando
Boheme Orlando is another fantastic restaurant option on Orange Avenue - though vastly different from Tijuana Flats.
Located in The Grand Bohemian Hotel, this restaurant is the definition of fine-dining with all the trimmings. It's a great place to enjoy dinner before visiting any one of the upscale bars in the neighborhood.
Some of the classic dishes you'll find on the menu are Cognac flamed pepper steak with roasted mushrooms and Mediterranean baked salmon. There are also vegetarian options.
Because this is dining at its finest, the prices will run on the high side. There is a fixed price menu around $50 which doesn't include drinks but is still a solid value.
With its classy atmosphere and fine art hanging on the walls, it's the antithesis to the glitter, noise, and distraction of the theme parks.
They also offer a Sunday brunch that's quite popular.
Downtown Orlando Dining Has Something for Everyone
Whether you're planning a trip to Orlando or considering making a move there, be sure to check out some of the best restaurants in downtown Orlando we've highlighted above.
And for more great articles and information about downtown Orlando, be sure to keep checking back with our blog. We regularly update it to keep you in the know about all the great things happening there.