Cocoa Beach Florida: This Is What's Good About It
Posted by Brady Pevehouse on Tuesday, March 2, 2021 at 5:59 AM
By Brady Pevehouse / March 2, 2021
Comment
Cocoa Beach Florida: This Is What's Good About It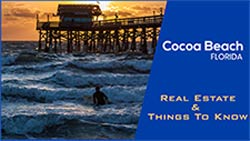 Why is Cocoa Beach Florida such a great place to live?
Learn more about this city and what it has to offer..
Cocoa Beach is an ideal living location located right in Brevard County, Florida. Between the warm and sunny beaches, the great community, and all of the awesome things that the town has to offer, it's the perfect place for your next dream home.
What's not to love about Cocoa Beach?
If you're looking to make your next move to the coast, we want to help you decide if Cocoa Beach is right for you. Looking at Cocoa Beach homes for sale? You're already off to a great start.
Keep reading to learn all about why Cocoa Beach is one of our favorite places to live.
Perfect Year-Round Weather
Cocoa Beach is one of the best places to live if you love the sand and sun as much as we do. Many homes have a clear view of the beach and ocean while others show you the bustling (but relaxed) local life of the area.
Winters in Cocoa Beach come in at a warm but breezy mid-seventies, while summers range into the nineties. This might be too warm for some, but it's perfect beach weather and there are endless local spots to keep your skin out of the sun for some much-needed rest.
Bonus: when it gets too hot, the thunderstorms are amazing and short, meaning you can go about the rest of your day in the cool post-rain air.
If you're a frequent beach-goer who loves that summer heat, Cocoa Beach is one of the best options in Florida.
And if that constant warmth isn't appealing to you, many sunbirds in town choose to leave their homes for a few weeks to check out some of the chillier areas in different states. You can have fun in the snow and mountains for a brief stay and then return to your warm and endlessly cozy residence.
You're Never Far From the Beach
As the name implies, Cocoa Beach is largely waterfront property. The local sun and surf are better than many of the beaches around the country and you don't have to be more than a short walk or bike-ride away from the shore.
These aren't just any beaches. The sand is white and clean, and soft enough to walk on it with bare feet (just be careful in the midday sun!). The oceans are warm, like cooled bathwater. No more chilly dips to acclimate yourself.
Do you have any favorite sand activities or ocean hobbies? Cocoa Beach can support all of them. Whether you want to skimboard, bodyboard, play some beach volleyball, or just lounge under an oversized umbrella with your favorite book, there's something for everyone.
Who doesn't want to live at the beach, anyway?
Local Restaurants Are to Die for
There are so many amazing local restaurants in Cocoa Beach, and, as expected, many of them serve the freshest seafood that you can find statewide.
Because of how small and intimate the area is, you're never more than a walk, bike ride, or rideshare from all of the new places you've been looking to try.
You'll hesitate to cook at home when you can get crabs, oysters, lobsters, and more fish than you can name at the bars and restaurants near you.
Sip a mojito on an oceanfront patio. Watch the dolphins with a strawberry daiquiri. You'll be living the real ocean life when you move to Cocoa Beach.
You're Not Far From Orlando
How do you feel about those powerhouse attractions: Walt Disney World and Universal Studios?
Whether you're into theme parks, or your family is into them, you'll be pleased to know that when you live in Cocoa Beach you won't be far away.
That's right, you get all of the benefits of being within driving distance of two of the biggest and most popular amusement parks on earth while also avoiding the hustle and bustle of living in Orlando.
You can get from Cocoa Beach to Orlando in about an hour, which is shorter than some peoples' daily commutes! Do you have children or grandchildren who are excited to see their favorite characters up close and in person? You've got it covered when you live in Cocoa Beach.
This makes Disney or Universal a day trip. Not many people have that luxury.
When you're done with the rides and fun of the day, don't bother renting an overpriced hotel. You can go home and rest and prepare for the next day of fun in the sun, or take a day off in between to rest.
Go enjoy the crowded amusement park life and return to your quiet and peaceful home when you're done. Simply put, it's the best of both worlds!
Orlando isn't only amusement parks, either. Visit the city for your nights out and see what it has to offer when you live a short drive away.
Quiet Beach Lifestyle
When you think of beaches you probably think of huge sweaty crowds and overpriced carnival foods. Maybe you have memories of dirty, overcrowded boardwalks and expensive parking.
In Cocoa Beach, you get all of the fun and none of the nonsense.
Cocoa Beach is quiet and keeps a low population. This lets it keep its quiet small-town feel with all of the luxury of a beach community.
Many of the town's buildings feel vintage and "cool", giving the town that seventies beach vibe that so many other beaches are trying to emulate.
The overcrowded boardwalks are a distant memory in Cocoa Beach. It doesn't cater to tourists with the T-shirt shops and loud storefronts every other step. While there are tourist-friendly places (we love the giant Ron Jon shop!) the town aims to cater to residents as well.
All of this means that you get that coastal life that you've been dreaming of without the bothersome tourist traps that plague some other beach towns. When you are ready for the "low key" lifestyle, this is the place!
Homes For Sale Cocoa Beach FL
Cocoa Beach Activities And Events
There are plenty of Cocoa Beach activities to keep you entertained year-round. The temperate climate allows for a lot of freedom.
Have you ever been interested in kayaking? What about bioluminescent wildlife?
These glowing, magical-looking creatures live underwater and light up beneath the kayaks. You can see them up close and get the experience of floating above them.
Have you ever been on an airboat ride?
These fun little vehicles make quick work of water travel but are easy to stop on a dime, meaning that you'll never miss a turtle, gator, or other water-dwelling creatures lurking around.
Curious about land activities?
No problem. You can go on a horseback trail ride and wander your new living space. This slow eco-tour takes you through all kinds of local wildlife and it's a great way to spend a relaxing afternoon.
Bonus: Kids love it!
Maybe the land and sea aren't enough for your daily adventures. Lucky for you, Cocoa Beach is on the space coast. You'll be right by one of the central hubs for space travel.
The Kennedy Space Center is a short trip away, giving you access to a full museum of space-related memorabilia. This is a great trip for kids and adults alike.
They also launch rockets and host various events, so you'll never be bored.
Local Flora and Fauna
Do you live somewhere that's lacking in interesting plants and animals to see? Maybe you're stuck in a big city where local animals and trees are things of the past.
Cocoa Beach has no lack of local wildlife
If you're into a place with soothing palm trees waving back and forth in the beach breezes, this is it. There's also plenty of beach grass and rainforest-style plant life due to the humid and warm atmosphere.
The animals, though, are the real draw.
While you have the normal beach dwelling animals such as sand crabs, hermit crabs, and jellyfish, there's so much more to see in Cocoa Beach.
You can be greeted every morning by one of the local lizards. They're a delight to see, especially when they're new to you.
Florida is home to a large population of manatees. These pleasant and friendly sea mammals shouldn't be touched, but you can watch them drift in the waterways.
There are still dolphins that live near the beaches, so catching a good sight of them on your beach days is almost sure to happen.
Have you considered bird watching? You might want to pick it up. Between the herons, egrets, and pelicans, you'll be seeing so many birds up-close that you've never gotten the opportunity to see before.
Remember, look and don't touch.
Is Your Next Home In Cocoa Beach?
If you can't tell, we love Cocoa Beach. Between the relaxed beach lifestyle, the local plants and animals, the activities, and the short drive to Orlando, there's nothing not to love about this awesome little community.
Are you ready to make the move?
If this all sounds great to you, we want to help make this move possible. Visit our site to let us help you find your dream home.
View Brevard County Commercial Properties For Sale