Feeling Bored? Check Out These Cool Things to Do in Winter Park, FL!
Posted by Brady Pevehouse on Thursday, May 23, 2019 at 6:13 AM
By Brady Pevehouse / May 23, 2019
Comment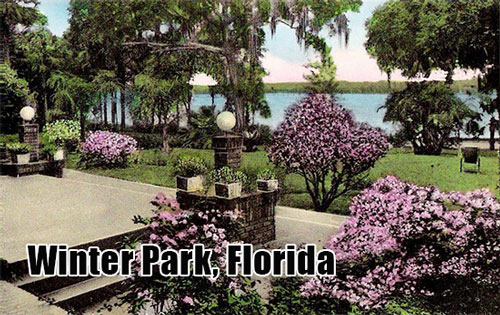 Put yourself in these shoes: you've just moved to a new area, and it's the first weekend you aren't buried in unpacking tasks. You want to head out and enjoy your new city, but you don't know where to start.
Perhaps that's your actual situation, or maybe you're visiting Winter Park and you're looking for entertainment. Have no fear because there's never a reason to be bored in our fine city.
Winter Park is full of great entertainment opportunities for families, couples, and friends to enjoy. The next time you're looking for things to do in Winter Park FL, here's your go-to guide.
Things to Do in Winter Park, FL
Winter Park may look cozy on the surface, but we have our fair share of entertainment options. Check out these popular choices:
Cool Down on the Water
The water is one of the top reasons people move to Florida. Winter Park might be inland, but that doesn't mean you have to miss out. Our town and the surrounding area is rich with bodies of water for your enjoyment.
If you're not the type to lounge on a beach, there's plenty of action to find on our local lakes. Lake Killarney and Lake Ivanhoe are recreational favorites. There are plenty of places nearby to rent paddleboards, kayaks, and more. If you're new to watersports, you can also find lessons to learn how to paddleboard or learn other skills.
Expand Your Palate for Adult Beverages
If everyone in your group is over 21, your entertainment options multiply. Winter Park is a town with plenty of thirst for adult beverages, and tasting options abound.
You can enjoy a great wine tasting at The Wine Room. If you're a fan of spirits instead, try the Winter Park Distilling Company. This distillery offers tours as well as opportunities to taste-test their rum, vodka, whiskey, and bourbon.
If your group prefers craft beer, there's no shortage of options. Check out The Brewstillery, Deadly Sins Brewing, or Ten10 Brewing Company.
Frolic in a Garden
Florida is known for how well it appreciates nature, but being so close to a city like Orlando, it's easy to lose sight of that nature. To get back to your greener roots, explore one of the curated gardens Winter Park has to offer.
Depending on what side of town you prefer, Mead Botanical Garden and Kraft Azalea Garden are the two key choices. You can even hit up two gardens in one day with minimal driving if you head to the Mead Botanical Garden and the nearby Harry P. Leu Gardens.
Expand Your Mind at a Museum
If you're a history buff or an art lover, you've come to the right place. Winter Park is full of museums for your education and your browsing enjoyment. If you're looking for an air-conditioned escape on those humid summer days, look no further.
For great art, our favorites include:
The Charles Hosmer Morse Museum of American Art
The Albin Polasek Museum and Sculpture Garden
The Cornell Fine Arts Museum
The Mennello Museum of American Art
Zora Neale Hurston National Museum of Fine Arts
If you prefer a tour through history, check out these gems:
Casa Feliz Historic Home Museum
Hannibal Square Heritage Museum
The Holocaust Memorial Resource and Education Center of Florida
While Winter Park doesn't have much in the way of science museums, attractions like the Orlando Science Center are a short drive away, and is a favorite in our family!
Catch a Show
If you're looking for evening entertainment where you can kick back and watch a show, Winter Park has plenty to offer.
There are plenty of movie theaters for any cinephile to enjoy. If you prefer live entertainment, though, hit up the Winter Park Playhouse, the Breakthrough Theatre of Winter Park, or the Annie Russell Theatre.
Want to enjoy your dinner and take in a show at the same time? Head over to the Aloma Cinema Grill for a delicious experience.
Indulge in Fine Dining
Whether you're celebrating a special occasion or you just want to indulge in a great dinner, you can find plenty of fine dining in Winter Park.
If you're in the mood for a great steak, try Fleming's Prime Steakhouse and Wine Bar. Another popular choice is Christner's Prime Steak and Lobster as well as the nation's famous Ruth's Chris Steak House.
For those who aren't steak fans, there are plenty of other choices. Rocco's Italian Grille and Bar or Prato are perfect options for an Italian craving. If you want to indulge in Southern culture, on the other hand, try Hamilton's Kitchen.
Hit Up a Local Festival
Florida is known for great weather, and Winter Park takes advantage with countless festivals every year. Our most famous event is the Winter Park Sidewalk Art Festival.
Depending on the time of year, try the Winter Park Harvest Festival or the Winter Park Autumn Art Festival. Nearby Maitland has plenty of options as well, like the Spring Festival of the Arts and the Florida Film Festival.
Of course, downtown Orlando has an even wider selection. From spring through fall, you can find a fun festival nearly every weekend.
Here's the great part of our famous festivals: many of them are free to attend. It's a great way to get to know your city while taking in some free or cheap entertainment.
How to Enjoy Winter Park
Whether you've moved to Winter Park or you're visiting, we're thrilled to welcome you. All the ideas above for things to do in Winter Park FL are just the start of our hospitality. We invite you to start exploring our fair city and finding out why so many people love to call it home.
If, on the other hand, you're in the process of moving here, we're happy to help you find your new home. To get started, contact our Winter Park real estate team.
And of course, you could always search for and view homes for sale in Winter Park. Our site is updated every 15 minutes to ensure you have easy access to Winter Park real estate for sale.