A Guide to Using Offerpad In Orlando
Posted by Brady Pevehouse on Monday, October 22, 2018 at 8:04 AM
By Brady Pevehouse / October 22, 2018
1 Comment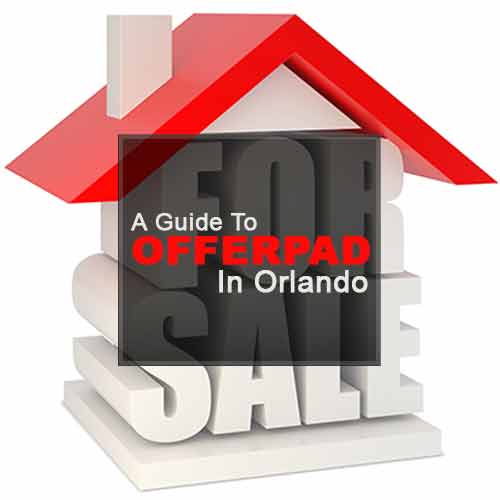 OfferPad is the latest startup attempting to "disrupt" the housing market. But are they safe to do business with?
Here's our guide to using them effectively.
A Cautious Guide to Using OfferPad In Orlando
Offerpad is a fairly new website that allows people to sell their homes without the paperwork and fuss that come with traditional methods. This means busy sellers don't need to hire a real estate agent or deal with managing open houses and showings.
Also, one of the best perks is that Offerpad will partner up with a nearby moving company to help you move into your new home, as long as it is within 50 miles of the house they helped you sell.
All of this sounds perfect, right? Maybe a little too good to be true?
Well, we've done some research to help you make an informed decision. So, continue reading this guide, and we'll tell you whether using Offerpad in Orlando is a hit or miss.
How Does Offerpad Work?
Shopping online is extremely convenient and you can sometimes get some deals that are even better than what's available in traditional brick and mortar stores. But is buying and selling homes online taking it a bit too far?
As with most of your online stores, Offerpad makes the process fairly quick and simple. The first thing you will do is complete a form with details about your home.
Step One: Online Form
The website boasts that it will only take about 5 minutes to it fill out. In the form, you will input details like how many stories your home is, the year it was built, and details about the interior and exterior. Then you'll be asked to upload photos.
Step Two: An Offer Price
Within 24 hours of providing this information, the Offerpad team will send you an offer on your home. If you agree with the price, you will move forward to the next step where you can select your perks.
Step Three: Free Perks
You can choose whether you would like to take advantage of a free local move within 50 miles and an extended stay (up to 3 days) after closing. In this step, you can also choose your actual closing date, which is flexible.
Step Four: Contract
From there, you will be sent a contract to sign and send back to the guys at Offerpad. When they come in to complete an on-site inspection of your home, it's the first and last time you'll have anyone coming in. Potential buyers won't need to visit because they will receive all of the details about the house from Offerpad directly.
Step Five: Collect Your Cash
Afterward, you can pretty much forget about the sale until it's complete. You will get your cash, move out of the house, and continue on with your life.
The Pros and Cons of Using Offerpad
Now that you know how the process of selling through Offerpad works, it's time to get to the important stuff: the PRO's and CON's.
This is where you can find out if Offerpad's really a good tool or not.
The Pros of Selling Your Home Via Offerpad
The Offerpad service offers sellers a simple, hand's off approach to selling their homes. Here are 6 advantages of using the service.
No Preparation
You don't have to prepare your home for a sale with Offerpad. This means no cleaning, staging, or doing curb-appeal fixes.
No Showings
Since buyers will receive all the details about your home from Offerpad, you don't have to schedule time out of your busy schedule to show the home.
No Agents
Offerpad acts as your real estate agent. This saves you from interviewing and then hiring a professional.
No Concessions
Sellers often have to pay concessions in order to offset closing costs for the buyer, but this is something you won't have to worry about.
Everything Is on Your Time
Not only can you choose your own closing date, but the date is also flexible. So, if something comes up, you can make changes.
Also, you are allowed to stay in your house for up to three days after closing.
Free Move
You can move anyplace within 50 miles of your old place for free. Offerpad will pay for the professional movers.
There are some limits though, the home should be 2,800 sq. ft. or less, and your belongings shouldn't total more than 13,000 pounds.
The free move doesn't include packing or unpacking materials, furniture assembly/disassembly, or appliance connect/disconnect.
The Disadvantages of Using Offerpad
The cons of using this service include BBB complaints, hidden fees and more. You will find more details in this section.
Low Offers
Offerpad isn't just helping you sell your home for free. They're still a business and need to make a profit. And like many businesses, they charge you for the convenience of using their service.
Because of these reasons, many sellers have complained that the offers from Offerpad are much lower than the actual value of their homes.
On the other hand, if you use a real estate agent for the sale, it might take longer to sell, but you will still get more money out of the transaction.
You Can't Change Your Mind
With Offerpad, you're locked into your contract. And if you need to back out for any reason, you can still end up paying thousands of dollars in penalties.
Surprise Fees
The first offer the company sends you isn't likely to be what you end up getting in the end. There are some fees that can take away from the amount.
The fees include a rehab and remarketing fee of about 4%, an express fee of 2%, and a 6% fee for the selling and buying commissions.
We have seen different numbers / percentages when it comes to fees, and in reality it is all in the fine print so pay attention to the details. Offerpad Orlando website states the fees are 6% to 10% but we have also seen one exclustion that stated up to 18% in total based on needed repairs (see below) that are charged back to the seller.
Bad Customer Service
The Better Business Bureau (BBB) complaints don't look too great for Offerpad. According to the site, when customers have had problems, the company didn't provide adequate information and didn't respond in a timely manner.
You Might be Required to Pay for Repairs
Offerpad gives more money for your house as is, but they also have a reputation for making sellers pay for repairs and updated appliances. Not only will this cost you money and require you to hire a contractor, some of the BBB complaints say the repairs were excessive.
Do You Plan to Give Offerpad a Try?
If you are planning on selling your Orlando home, Offerpad might benefit Offerpad (the buyer) more than it will benefit you unless you are looking to make the transaction quickly and with as little involvement as possible. Be sure to weigh your option before choosing this or another online service. Also please keep in mind, Offerpad does buy homes that are represented by agents, so should you want an advocate on your side to discuss and navigate your options, we will be happy to sit down with you prior to your Offerpad submission.
For more information about Orlando real estate, follow our blog. We will keep our resources updated so that you are always in the know.
Check out our automated Orlando Home Value website for an quick check-up on your home.