I'm Not Old, but When I Am, I'll Retire in Florida: Here's Why
Posted by Brady Pevehouse on Friday, March 8, 2019 at 7:38 AM
By Brady Pevehouse / March 8, 2019
Comment
I'm Not Old, but When I Am, I'll Retire in Florida: Here's Why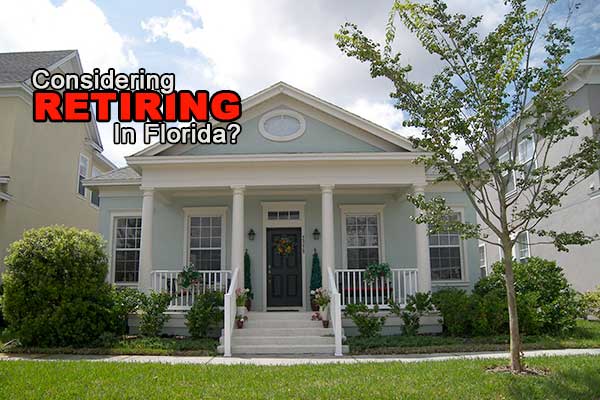 Is it the age old, or the old age question? Either way, it's never too early to start planning for your retirement. Learn why you should retire in Florida.
It's the age-old question of old age: where will you retire?
I'm Not Old, but When I Am, I'll Retire in Florida: Here's Why
Nearly 20% of Florida's population is over 65. It's clear there's something attractive to seniors about retiring in Florida, so what's the big secret? It turns out there's a good reason Florida is the retirement state of the US.
Here's why you and I should retire in Florida when the time comes.
Tax Me the Question
Death and taxes, they say. But in Florida, you're taxed less than most. Perhaps that means something good for postponing death, too? Okay, there's no word on the Fountain of Youth in Florida, but the light taxes relative to the rest of the US are a fact.
Floridians don't have to worry about a state income tax or an inheritance tax, along with a few other things. That means more money to enjoy in your retirement, and more money to pass on to your family when you've had your fill.
Retirement isn't always an easy financial proposition, so settling down somewhere with a light tax burden could help stretch your retirement funds that much further.
Oceans and Alligators
It's no good spending all your time in a crowded space when you're old. You'll be telling people to get off your lawn all day long.
Heading out to enjoy the natural world can reset your stress levels and give you a lungful of fresh air, away from the whippersnappers. Florida has ready access to the ocean, so you get away from things on the open water, or you can head into the extensive national parkland for some greenery and wildlife.
You'll never have to travel far to reach these things, either. Most of Florida's sights are only a few short hours away by car.
Sunday, Monday, Sunny Days
Well, obviously. The Florida weather is world-famous for kissing its beaches with sunshine for most of the year.
But it's easy to grow bored with hot weather. Sometimes you need a little relief. Thankfully, Florida is happy to provide, offering its temperate spring and fall to offset a long summer. You won't have to worry about the cold of winter gnawing at your bones, either.
So if you're looking for somewhere warm but don't want to dedicate yourself in apocalyptic Arizona, then Florida could provide the perfect balance of a long summer and mild off-seasons.
Older and Out
Seniors should live an active, healthy lifestyle to ensure their physical and mental wellbeing.
Here's one direct benefit of the Floridian weather in action. When you live in an area with long stretches of balmy sunshine, it's easy to get out there and live your life.
If you're done with being cooped up in the rain, then retirement in Florida could be the key(s).
With good weather also comes an active community, so you'll be able to attend events and socialize with your neighbors in the long summer days, and when the summer rains do come, the true locals can teach you how to almost set your watch to the rain schedule... (just ask us)
The Disney Attraction
By the time you retire, you could have an enormous extended family. We're talking grandkids and maybe even great grandkids.
You want to be the fun grandparent, right? So when the kids come to you, they'll want something to do. Luckily, Florida is an excellent place for guests.
On top of its weather and natural beauty, Florida can also offer a wealth of world-class attractions. We're talking Disney, Universal Studios, and a variety of natural wonders, like the Everglades.
If you can position yourself as the cool grandparent, you can probably wrangle a few more visits from the family, too. Florida's attractions are enough to make even the most distraction-hungry kids excited for a visit. (and our theme parks have Florida Resident Discounts!!)
Plane to See
While we're talking about family, here's another highlight: Florida's ready access from the air.
As a tourist destination, Florida's airports are busy places serving hundreds of flights. That means no matter where your family lives, they'll always be able to reach you with a convenient flight.
It also means you can leave Florida at a moment's notice to visit family or attend important events.
Social Seniors
There's something about endless sunshine and ready access to beaches that make for happy people.
Life is rarely dull in Florida, as well, thanks to its popularity with tourists. Together, these things ensure that you'll always have someone new to talk to. Life in Florida is a mixture of the slow-paced leisure brought on by warm days and the exuberance of a tourist hotspot.
That ensures you aren't likely to feel bored or isolated in the long years of your retirement.
Home is Where the Other Homes Are
You won't be the only one to come to Florida to spend your well-earned retirement. Florida is a popular destination for seniors, which has led to the rise of retirement communities across Florida.
These communities are safe, social, and supportive places for seniors. They make it easy for seniors to socialize in a space where they'll feel comfortable and have homes suited for senior occupants.
It's hard to argue with a retirement location made specifically for retirees, so that alone makes Florida an attractive destination.
Careful Living
If you've made it this far, then you know that Florida already has a healthy retired population. And where retired people congregate, so do the people that keep them healthy.
That only reinforces Florida as a great place to spend your retirement. Along with all the other great reasons above, Florida can also boast healthcare that's highly specialized toward seniors.
In old age, good healthcare can mean the difference between making it to seventy or to ninety, so ensuring you're set up for a long and happy life should form a cornerstone of your retirement planning.
Will You Retire in Florida?
Now that you've seen what a great place it can be, will you retire in Florida? Retirement may seem like it's a long way away, but it'll be here before you know it — it pays to have a plan.
Want to take a look at homes available in Florida right now? Check out our communities section.
Looking for an active lifestyle? visit our Retirement Communities In Florida page for links to 55+ communities in Central Florida
Looking for a vacaton resort lifestyle? Check out Village Walk at Lake Nona homes for sale.