Why You Need A Real Estate Agent When Buying From A Home Builder
Posted by Brady Pevehouse on Wednesday, October 9, 2019 at 7:13 AM
By Brady Pevehouse / October 9, 2019
Comment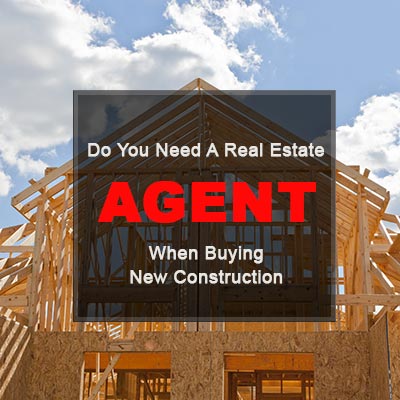 For some Orlando home buyers, new construction is the purchase of choice but it comes with complex issues that require a Realtor® with your best interests in mind.
Buying a home is already stressful, and if you're leaning toward new construction, it can be even more so.
DECISIONS - DECISIONS
---
Why You Need a Real Estate Agent When Buying From a Home Builder
You might think that you don't need a Realtor® if you're buying directly from a builder, but it's essential to use a full time agents expertise to help you navigate this complex process.
Read on to learn more about why you should use a realtor when purchasing a newly-built home.
Realtors® Know How to Negotiate
When it comes to getting the best price on real estate, negotiation is key. You might already have a budget in mind, but many builders won't budge if they're dealing with buyers alone.
Rely on a professionalRealtor who can help you negotiate things like upgrades or other hidden costs. Most builders won't offer these markdowns to uneducated buyers.
A Realtor can help you work with the builder to come to a middle ground in terms of pricing. They understand the nuances of the Orlando market and can help you get the best deal possible, especially when dealing with local builders.
Unfortunately, many new construction builders know they can talk buyers into paying full price if they don't have a Realtor. Your agent is there to protect your interests and serve as the go-between, to help you get more for your money.
It's important to note that most builders already include the broker's commission in their sale price. If you don't have a real estate agent, all that means is a bigger bottom line for the builder in the long run. You might as well utilize a realtor since you're likely to pay for that cost either way.
Even if you work in an industry where negotiation is the norm, an experienced realtor understands the ins and outs of the process. Let them help you haggle with the builder so you get the best deal.
Negotiations can include anything from a discount on upgraded appliances to a better price if you choose a home with less square footage. Make a list of the things that are must-haves so you can be sure you get what you need and want. This is definately a discussion you should have with your agent! This way, the offer and negotiations are spot on.
Don't be afraid to say "no" if the builder comes back with something unreasonable. It's your money, so you reserve the right to be picky about what you pay for.
A Realtor Can Protect Your Rights
A real estate agent is well-versed in the legalese that's often involved in real estate contracts. They know buyer's rights and can ensure that yours are legally protected.
Without a realtor, you're relying solely on the builder's word, and you have no paperwork to back it up. A realtor will help you spell out your rights and responsibilities along with those of the builder.
Go over every line of your contract with a fine-toothed comb to make sure everything is covered. This can include something as small as an upgrade you wanted to as large as hazardous chemicals used by the builder.
In addition to a realtor, you may want to consider consulting a real estate attorney. They can help you clearly identify any red flags and let you know if the fine print in the contract is steered toward your best interest.
Some realtors will recommend their own attorneys for a discount, so be sure to ask if there's one your realtor trusts. With these two professionals combined, you will feel better about ensuring that your rights are protected.
Inspecting New Construction
You might think you won't need a home inspection performed on new construction. Actually, getting a proper inspection is a must, even for brand-new builds.
Your builder likely has no plans to inspect the property themselves after they're done. Can you really trust that everything they've done is up to par?
As your realtor to refer you to a home inspector they trust. Their job is to walk through the home and look for any potential pitfalls and flaws.
Make sure you include a satisfactory home inspection as part of your contingencies in the contract. This will hold the builder accountable for making repairs if you run into any problems before you move in.
Your realtor can even coordinate the schedule for the home inspection with you and the inspector. Then, if something is wrong, they'll help you negotiate any fixes you need.
When touring a model home, remember that the person showing you the home is usually a direct employee of the builder. They're not likely to disclose any negative information since their goal is to make the sale.
You may even discover that some builders actually require you to have a real estate agent present. This is for their protection as well as yours.
The Buying Process
Purchasing new construction can be tricky, so it's important to understand the process. Depending on your lender, you may need to be financed for a construction loan until the home is complete.
When you opt for this type of loan, you'll need to pay the builder in increments as the work is completed. Once it's done, make sure you get a lien waiver to protect yourself.
Be aware that most builders offer their own financing, but that doesn't mean it's the best deal for you. Shop around for better terms and rates with various lenders.
Financing varies depending on your location, too. Make sure the current laws in the Orlando area allow for mortgages that combine land, construction, and homes together in one.
Once you've chosen a lender and a builder, your builder should keep you informed of the progress. If they're falling behind, ask your realtor to step in and check on the timeline.
Look for a realtor who is familiar with your builder. They might be able to get you a great deal on a home that has fallen out of the contract.
In cases like this, you stand to get a deep discount on a home that's already constructed. Not only will you get a good deal, but you won't have to wait for the home to be built before you can move in.
Choosing an experienced new construction buyer's agent can save you big bucks in the long run. They'll also help you navigate what can often feel like an overwhelming process.
What Realtors Know
Real estate agents understand the needs of their buyers, and they also know how to work with builders. Look for an agent who is familiar with the builder you've chosen.
It's likely that many realtors in your area already have an established relationship with your builder. This relationship will allow them to work more closely with both parties to get things done.
Even if you think you can handle making offers and signing contracts on your own, it's always recommended to use a realtor. Since the seller, in this case, the buyer will pay the commission, you really have nothing to lose.
If you're choosing new construction in an already-established neighborhood, your realtor can give you insight. They should be able to tell you more about potential pitfalls and downsides as well as many pluses of the development.
An experienced realtor is familiar with your city, town, and neighborhood. Whether you're relocating or just moving down the street, be sure to use their knowledge to give you some fresh eyes and good insight.
Aside from the neighborhood, a good realtor is familiar with the construction process. They can give you solid, actionable advice that will ensure you're making the right decision.
The key to any real estate transaction is getting the most for your money, living in a well-built home, and getting peace of mind. Your realtor's goal is to make sure that you get all three.
Don't Go It Alone
It's definitely exciting when you're looking at new construction, but that doesn't mean you need to go it alone. Choose a savvy Realtor who understands the local Orlando market and the builder-buyer relationship.
With a Realtor's help, you can better negotiate and prepare for your new home. Their expertise can give you peace of mind and save you potentially thousands of dollars at the end of the day. Hire a real estate agent you can trust who also knows the process of buying new construction.
For more about building a house and the real estate market in the Orlando, Florida area, visit our website and contact us today for an appointment.
Below is a partial list of available homes and communities in the Orlando area.