The 12 Best Annual Orlando Events You Don't Want to Miss
Posted by Brady Pevehouse on Friday, June 21, 2019 at 6:27 AM
By Brady Pevehouse / June 21, 2019
Comment
The 12 Best Annual Orlando Events You Don't Want to Miss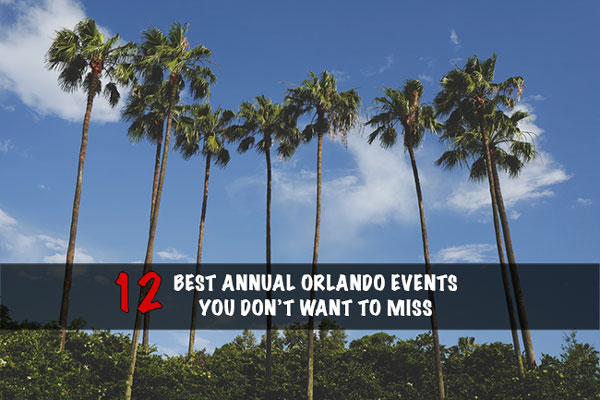 Are you thinking of moving to Orlando for the long-term?
Check out this list of the 12 best annual Orlando events that you won't want to miss after your move.
---
Orlando Events You Don't Want to Miss
If you are like many, you associate Orlando Florida with Disney World, Universal Studios or the Epcot Center. These are great places to experience with more than just rides and attractions.
Orlando, however, is so much more. Orlando is a regional events capital, with hundreds of cultural, music, and sports events happening throughout the year.
If you are relocating for work, family, or just to immerse yourself in the Florida sunshine, click here to receive our free market report or ask a question of our knowledgable real estate team.
We picked 1 of our favorite Orlando events for each month of the year. We hope you enjoy them as much as we do.
Our Top 12 Orlando Events
There is almost no way to choose the best events in Orlando because there are so many diverse ones. We have attempted to pick our top 12 to give you just a small sampling of the many there are to experience.
Check out the City of Orlando or the Orlando Sentinel any time you need something fun to do in this vibrant city for some of the most up to date listings.
January
Start your January off right by attending the Citrus Bowl at Camping World Stadium. This major college football event is sure to be enjoyed by sports and non-sports fans alike. Before you go, be sure to check out the history behind Camping World Stadium.
February
For most, February is associated with love and romance, but in Orlando, it is associated with the Central Florida Dragon Parade. This Parade and event were named one of the must-see multicultural events in the City. This annual event marks the beginning of the Chinese New Year and is a fun and educational way to kick off your year.
March
If you are a foodie, don't miss the United We Brunch event this in March. Spend a couple of hours exploring the area's best restaurants while devouring a limitless amount of food and beverages.
This is a party with a cause, so you can feel good about your consumption. The proceeds from this event benefit the Sencong Change Scholarship Foundation, Inc. Second Chance provides scholarships to single mothers desiring to continue their education which allows them to provide a better life for their children.
April
In Spring, you can't miss the Universal Studio's Mardi Gras Festival. There are nightly parades, outrageous street performers, colorful costumes, and countless beads. The Festival also hosts some of the biggest names in music live in concerts on select nights. Every night you will hear authentic New Orleans bands and can enjoy mouthwatering Cajun food.
The dates of this festival shift yearly to match the Lenten season which ends on Fat Tuesday. Admission is free to season pass holders on certain days of the festival. This party alone is reason enough for a season pass. Season passes to the theme parks are discounted for Florida residents. A win-win.
May
For 28 years Orlando has been home to the Orlando International Fringe Theatre Festival. This family-friendly event has something for everyone, from mild to wild, The Fringe Festival is something you don't want to miss.
If you are thinking, Fringe Theatre what is that? Fringe theatre is theatre define by its experimental style or subject matter. Festivals like this one started with the Edinburgh Festival Fringe. Often times these festivals are small scale theatre productions that are located in unique venues.
Be sure to experience it for yourself, you are sure to find something that you enjoy.
June
Kick off your summer with the Summer Grape Stomp Festival. Depending on your perspective, this is an exercise event, a music event, a food and wine event, a fundraising event, or a free labor event. Regardless of your perspective, the stomping of the grapes is a time-honored tradition and something fun for everyone to try, at least once.
A portion of the proceeds supports the LovExtension, a nonprofit dedicated to helping the elderly and disabled communities in Lake County and The Villages.
July
Almost every major city does a 4th of July firework event, and Orlando is no different. Check out the Firework on the Fountain Event hosted by the City for your next family-friendly favorite 4th of July Activity.
August
What "Best of List" doesn't include the Best of the Best? The Best of Orlando Party is the must-have ticket of the year.
If you are lucky enough to get a ticket your invitation includes access to five venues with open bar, complimentary hors d'oeuvres, and the best DJ's in town. This event is sponsored by the Orlando Weekly a great source of information on all Orlando has to offer.
September
If you love to travel, you must experience the Epcot Food and Wine Festival at Walt Disney World. This is one of the world's longest food and wine festivals lasting 87 days. Experience global music, cuisine, and cooking demonstrations and seminars during to best time of year to visit Orlando.
In September, the temperate drops to a cool 75 degrees and parks are relatively empty while families and kids restart the school year grind. As a local, you can always take a "sick" day and play tourist in your new hometown while the kids are at school.
October
If you think of Halloween in October, you are not alone. There are plenty of events happening this month for the young and old alike.
But if you prefer not to attend tradition scare your socks off events, check out the Creative City Project instead. The Project hosts 1,000 Artists who bring the city to life in an immersive artistic event.
November
Is there anything more beautiful than a hot air balloon? The Orlando Balloon Glow is an annual event that will always have space on your busy holiday calendar.
The Orlando Balloon Glow @ Blue Jackett Park features hot air balloons, retail vendors, food trucks, and family-friendly activities. Be sure to check out their Facebook page and enter to win a hot air balloon ride for you and 7 of your friends and check out your new home town from above.
December
Looking for a new and unique holiday tradition? Look no further than the Light Up UCF event at the Addition Finacial Area. Located on the University of Central Florida Campus, this is a unique venue to explore regardless of the month.
In December, however, Light Up UCF is both a holiday festival and pseudo-homecoming for local alumni. This event has snow, light shows, food, music, and carnival rides.
If you are relocating from colder climates you can also experience some of your favorite winter activities like Ice Skating then quickly return to the warms of Florida.
Friday and Saturday nights there are free outdoor movies with a holiday theme, bring a chair or blanket and enjoy your favorite holiday movies. Santa will be there and so should you.
Orlando is More Than Just Events
Orlando is more than events and relocation is more than just finding a house. You should explore the right community. Each community has its own personality and you need one where you can connect with like-minded people. Orlando has multiple, diverse communities. Click here to easily explore these areas and find the one that fits your personality.
For some, one of the key relocation issues is proximity to your new job. For others, the focus of your recollection search centers on schools. Click here to gain a deeper understanding of the area's school systems both public and private.
If you are a first-time homebuyer or feeling overwhelmed by the relocation process, we can help here as well, click here to get the conversation started.
Ready to Start Your Relocation to Orlando?
As you can see Orlando is a diverse and vibrant city with activities from sport to cultural events. As you are planning your relocation contact us. Our qualified team can help you find your new dream home in an area that fits the unique needs of you and your family.
Choosing the right house is a stressful process, but it doesn't have to be with our knowledge of the area, schools, and events that Orlando has to offer, we are sure we can help you find the right home in your new hometown.
We believe Orlando is an amazing place to live and work. If your relocation takes you out of the Orlando events area, we will be sad to see you go but can help you get top dollar for your home before you leave!
Search homes for sale within specific Orlando Communites