The 5 Benefits of Owning A Condo in Downtown Orlando
Posted by Brady Pevehouse on Tuesday, September 11, 2018 at 7:27 AM
By Brady Pevehouse / September 11, 2018
Comment
The 5 Benefits of Owning A Condo in Downtown Orlando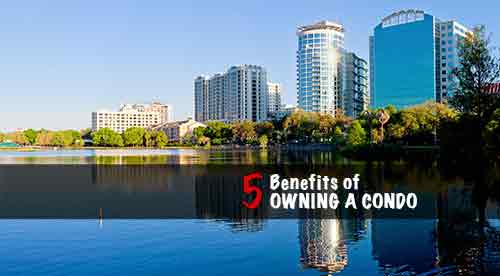 You've made the decision to buy a condo.
What are the benefits of owning a condo over a house?
And more specifically, in or around Orlando? Find out here.
The 5 Benefits of Owning A Condo in Orlando
So, you've decided to buy yourself a home. However, is owning a condo right for you, or is a house a better move?
You're also probably wondering about the right place. Many condos are found in bustling downtown areas, while houses are more likely to be on the outskirts of the neighborhood. Both have their pros and cons.
Millions of homes get sold each year. The choice between house or condo, and downtown or elsewhere, is largely personal, and it helps to know the benefits of each choice. Wondering how owning a condo in downtown Orlando might benefit you? Then keep reading.
The Benefits of Owning a Condo in Orlando
When you're shopping for a place to live, you're considering things like what style of home speaks to you, and what location you'll be happy in. This helps you narrow down the list of neighborhoods and homes. Has your list led you to the possibility of a condo in Orlando?
Many people love the lifestyle that sunny Florida offers. It's an incredibly tax-friendly state: there's no estate tax, state income tax, or inheritance tax. But that's not the only benefit living in Orlando has to offer. An Orlando condo offers what amounts to the American dream for many people - let's take a look at the details.
1

.

Amazing Views

Florida is known for its beauty, and a condo can offer stellar views that are hard to get with a home.

Homes are almost never more than three, maybe four stories tall - and the taller the home, the more you'll generally have to pay. To get a great view with a house, it has to be positioned just right so that you can see the view from the height of the home.

Homes are always at risk of having their views blocked by nearby construction. A single two-story building can completely knock out the gorgeous view for many homes. And if a home is in an area with a great view, that will quickly drive up the price, even if new construction late obstructs it.

A condo, on the other hand, can be in a high-rise building with access to much greater views. A condo on a high floor can have a view without even being very close to the scenery, and the chances that a new building will be high enough to block the view are lower.

With a condo, you can get a bird's-eye view of the city that a house would never offer.

2. Healthy Lifestyle

Florida living is often associated with the beach. Although Orlando isn't right on the beach, nearby lakes and natural areas abound, and the beach is just a short drive away - perfect for a day trip. This helps promote the healthy lifestyle that many people seek out in Florida.

With no harsh winters, Florida weather is suitable for outdoor activity almost all year round. You can hike, bike, and explore to your heart's content without traveling too far. You'll enjoy a healthy, relaxing lifestyle and plenty of sun.

Some condos even offer amenities like gyms inside, making it even easier to stay healthy. When the exercise comes in appealing forms or is more convenient, you're much more likely to do it.

3. Luxurious Amenities

In addition to gyms, condos often come with other luxurious amenities that beat what a house can offer.

Condos in Florida often have swimming pools, offering yet another way to relax, work out, and enjoy the sun. There might be a clubhouse where you can host parties and get-togethers, and more. These amenities are paid for by the condo fees that you and other residents pay.

In a house, you get what you see. If there's no swimming pool, there's no swimming pool, unless you pay to have one installed. Few houses have amenities that can come close to what a condo offers. Plus, with a condo, the condo association takes care of maintaining these spaces using the fees you pay.

Your condo might offer an outdoor bar, yoga studio, catering kitchen, guest suites, lounge areas, and much more. It all depends on the condo you choose. Of course, you'll also have access to the restaurants and activities of downtown Orlando, too. Whether you feel like going out or staying in, amenities will be at your fingertips.

4. Repairs and Maintenance

When you buy a house, the repairs and maintenance are all on you. You'll have to shoulder the work, or the cost of hiring other people to do it for you. It can be hard to plan ahead and have enough time or money set aside to take care of the maintenance a house needs.

However, a condo comes with condo association fees that ensure everything gets taken care of for you. Even if you're traveling for long periods of time, you can rest assured that your condo is getting taken care of. The property will be cleaned, maintained, and repaired when you return.

You won't be in charge of things like exterior painting or lawn maintenance, like you would with a house. Although you and the other condo owners each individually own your condo, the space is shared, so the cost of maintaining it is shared too.

5. Safety and Community

Living in a condo means you immediately have access to a community. If you're new to Orlando, this is a great way to get to know people. The common amenity spaces in a condo building provide the perfect place to meet your neighbors.

You'll also feel safer when you're in a condo. If something goes wrong, there's always a neighbor nearby who can help you out. When you live in a house, you're essentially on your own, and your nearest neighbors are across the lawn. In a condo, they're just steps away.
Ready to Buy a Condo Downtown?
Does owning a condo in Orlando sound right for you?
Each person's ideal living situation is a bit different. If you think an Orlando condo is a great fit, it's time to take the next steps. Before you make the move, though, be sure to check out our tips for people moving to downtown Orlando.
Other Areas With Condos For Sale