Catalina Elementary School Zone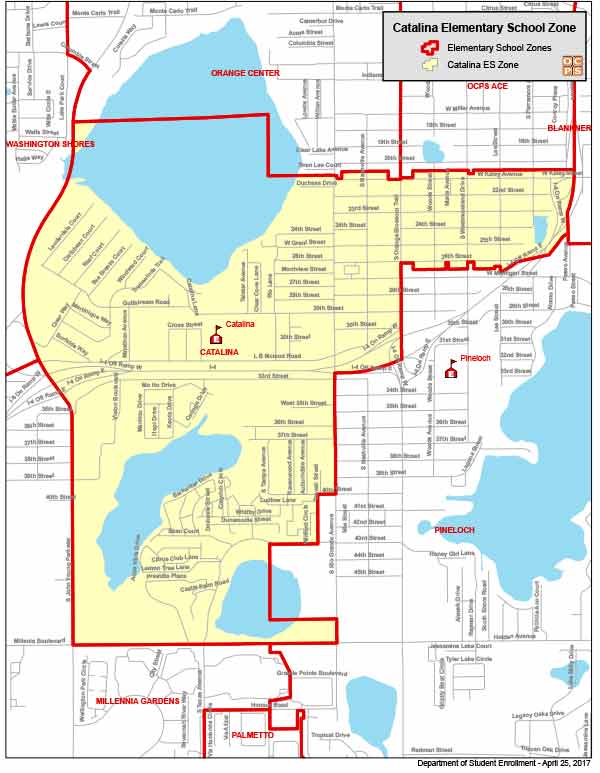 Searching for a home within the Catalina Elementary School Zone? Then you are in the right place! We work hard to make your next home search easy and efficient, so that when you are ready to buy or sell, we are ready to help!
---
Homes For Sale Within Catalina Elementary School Zone
---
Catalina Elementary School Information
Visit the Princeton Elementary School Website
Grade Levels: PK - 5
Mascot: Colt
Enrollment: 749
Feeds: Memorial Middle School
Location: Map
Download Zone Map: Catalina Elementary
Address: CATALINA ELEMENTARY
2448 29TH STREET
ORLANDO, FL 32805
Catalina Elementary School History and Information:
Catalina was founded in 1964 in the Catalina Isle neighborhood of southwest Orlando. It has served this area continuously and moved to a new campus in 2007. Catalina has a large library/media center with a diverse collection of current age-appropriate books and learning materials. The school features modern technology, including two fully equipped computer labs, student computers in every classroom, and interactive presentation boards in all intermediate classrooms. Catalina offers Pre-K and VE Pre-K, ESE and Autism classroom units as well as a full complement of rich special area studies: science, art, music, technology and physical education. At Catalina, students not only use computers to learn but they learn about computers and how to use them effectively before going to middle school. The school has an advanced student-operated TV studio, producing and broadcasting a daily morning show.
After School Programs: Dramatic Education, 21st Century Grant
Orange County Elementary Schools