Other Kings Ridge Neighborhoods
Huntington at Kings Ridge
55+ Retirement Community In Clermont Florida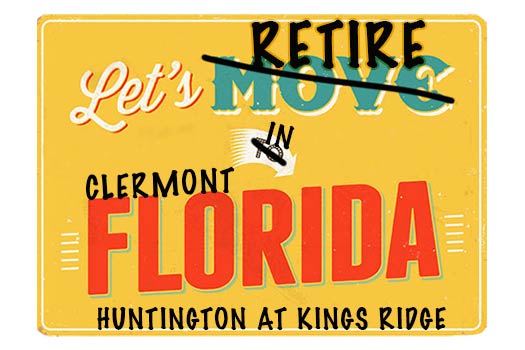 Huntington at Kings Ridge is an active 55+ community located in Clermont, Florida. The community offers residents a variety of amenities, including a clubhouse, fitness center, outdoor pool, and tennis courts. There is also an 18-hole golf course on-site that residents can enjoy.
The community is conveniently located near shopping and dining options, including the Clermont Crossings Shopping Center, which is less than a mile away. There are also several medical facilities and pharmacies within a few miles of the community, making it easy for residents to access healthcare services.
Huntington at Kings Ridge
Huntington At Kings Ridge
December 3, 2023
What's The Real Current Value Of Your Home?
Find your home's estimated value in today's market, for free.
More about the Huntington Ridge Neighborhood:
Within 10 miles of Huntington at Kings Ridge, there are several local attractions worth checking out. The first is Lake Louisa State Park, located just 5 miles away. The park offers visitors the opportunity to hike, swim, fish, and kayak in a beautiful natural setting. Another nearby attraction is the Clermont Historic Village Museum, located just 6 miles away. The museum features exhibits and artifacts that tell the story of Clermont's history. Finally, for those interested in shopping, the Fountains at ChampionsGate is just 8 miles away and offers a variety of shopping and dining options.
Here are three local tourist attractions within 10 miles of Huntington at Kings Ridge:
Lake Louisa State Park - This beautiful state park offers visitors the opportunity to enjoy hiking, swimming, fishing, and kayaking in a natural setting. With over 4,500 acres of land, there's plenty to explore. https://www.floridastateparks.org/parks-and-trails/lake-louisa-state-park

Clermont Historic Village Museum - This museum features exhibits and artifacts that tell the story of Clermont's history. Visitors can explore the village's original buildings and learn about the area's past. https://clermontvillage.org/

Fountains at ChampionsGate - This shopping and dining destination offers visitors a variety of options, from luxury brands to casual dining. https://www.fountainsatchampionsgate.com/
Here is a chart of nearby visitor attractions of Huntington at Kings Ridge:
Tourist Attraction
Distance (miles)
Description and Link
Lake Louisa State Park
5
Lake Louisa State Park is a beautiful natural area that offers visitors the opportunity to enjoy hiking, swimming, fishing, and kayaking. With over 4,500 acres of land, there's plenty to explore.
https://www.floridastateparks.org/parks-and-trails/lake-louisa-state-park
Clermont Historic Village
6
The Clermont Historic Village Museum features exhibits and artifacts that tell the story of Clermont's history. Visitors can explore the village's original buildings and learn about the area's past.
https://clermontvillage.org/
Lakeridge Winery
10
Lakeridge Winery is a popular destination for wine enthusiasts. Visitors can take tours of the winery and vineyards, taste award-winning wines, and enjoy live music events.
https://www.lakeridgewinery.com/
Presidents Hall of Fame
10
The Presidents Hall of Fame is a museum that features exhibits and displays related to the U.S. presidency. Visitors can see replicas of the Oval Office and other presidential artifacts.
https://thepresidentshalloffame.com/