Vista Lakes Orlando
Orlando, FL 32829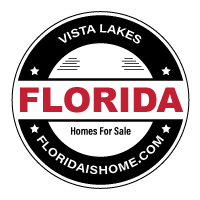 The Vista Lakes Community sits just North East of the Orlando International Airport, slightly off the flight path of most major airlines. Most people interested in this community are drawn to the location because of it's proximity to the airport as well as downtown. Just about 10 minutes from downtown with easy access to the 528 and minutes from the 408 this community is just a few years old. Another big benefitting factor to this community is the proximity to the new Medical City are of Orlando going in just south of Lake Nona. Simply putting the true benefits of Vista Lakes boils down to proximity to several amenities many people specifically need and desire.
The toll road 417 lies just east of Vista Lakes, offering convenience to access Disney and Tampa to the South West and Eastern parts of Seminole County to the North.
From this community buyers can assume Disney is 35 minutes away and Sanford Airport is 30 minutes away while the Orlando International Airport is just 10 minutes away. Downtown can be reached in less than 15 minutes or less.
Homes For Sale In Vista Lakes
Vista Lakes Orlando Information
The zip code for Vista Lakes is 32829. This community is North of Lake Nona, West of Semoran Blvd and East of the 417 Toll Road. Vista Lakes began building out in the early 2000's . Users who visit this page usually are looking for Lee Vista Orlando homes for sale and homes for sale in Vista Lakes Orlando.
Other Orange County Popular Searches